Catalogs

>

Tensator

>

Rope Length
Catalog excerpts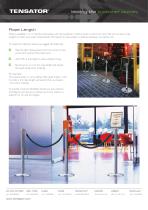 Rope Length Rope is available in 1or 2 metres price breaks, with the exception of velour, which is sold in 2m only. We can cut down rope lengths to match your exact requirements. The maximum rope length, i.e. distance between our posts, is 2m. To create the optimum layout, we suggest the following: Take the tight measurement from the centre of one post to the centre of the other post Add 10% to the length, to allow sufficient hang Round up to a 1m or 2m rope length and specify the exact sizing when ordering For example: The measurement is 1.2m, adding 10% would make it 1.3m. So order a 2m rope length, and specify that you require 1.3m when ordering. To provide maximum flexibility should you ever need to reconfigure your layout, we advise you to buy ropes in a selection of 1m and 2m lengths.
Open the catalog to page 1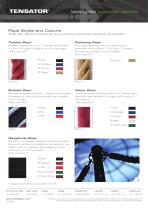 Rope Styles and Colours Tensator offers a selection of rope styles and colours, to match your corporate colours and best suit your environment. Twisted Rope A hardwearing yet stylish 25mm / 1" diameter rope; available in a choice of 4 colours. Available in 1m or 2m rope lengths. Order code: 343-** Polyhemp Rope For a sturdy natural rope, which will complement any environment, opt for a 38mm / 1.5" or 25mm / l"diameter polyhemp rope. Available in 1m or 2m lengths. Order code: 545-** Braided Rope Our lowest priced durable 25mm / 1" diameter rope is available in a selection of 3 practical...
Open the catalog to page 2
All Tensator catalogs and technical brochures

Compare up to 10 products