Catalogs

>

TPS 34 Passenger Stairs
Catalog excerpts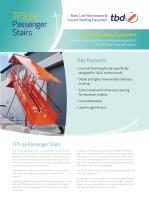 Passenger Stairs Base, Line Maintenance & Ground Handling Equipment■ Gro|nd Handling Equipment Reliable easy to use low maintenance equipment for efficient ramp operations. Key features • Low cost fixed height stair specifically designed for A320 series aircraft. • Stable yet highly maneuverable and easy to set up. • Easily towable with Ackerman steering for maximum stability. • Low maintenance. • Low through life cost. The TPS 34 passenger stair is designed specifically for the 'A320 family of aircraft with a fixed stairway and top-platform mounted on a welded steel chassis frame. The step treads and top-platform walking area are surfaced with grip faced aluminium tread plate to provide a smart, stylish appearance and passenger security in all weathers. Light weight yet robust construction saves time and effort when manually maneuvering the steps, to and from the aircraft. Sliding top platform panels with hand operated spring locking bolts are fitted to both sides of the top platform facilitate opening the aircraft doors with the steps fully interfaced to the aircraft. A rubber buffered pivoting section is fitted at the leading edge of the top-platform to interface with fuselage contours. The standard unit has tubular/sheet steel side-panels with extrusion trimmed handrails fitted to both sides of the stair flight. The sliding top platform panels are fully sheeted with D-Rubber buffers to the leading edge The TPS 34 offers a stylish, low cost option for single aircraft fleet A320 operations. As standard the chassis-frame and tow-bar are galvanised to ISO146I. All other sections are painted in a single corporate colour top-coat. High visibility markings are applied to front/ rear chassis corners and sides of tow-bar.
Open the catalog to page 1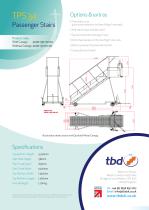 Options & extras Passenger Stairs Product code: With Canopy 4000-190-00-00 Without Canopy 4000-191-00-00 • Pneumatic tyres (puncture prevention by foam filling if required). • Alternative type stabiliser jacks. • Special corporate markings / livery. • Mesh sheet panels on the stair-flight side-rails. • Battery powered stairway illumination. • Canopy (as illustrated). Illustration shows stairs with Optional Metal Canopy. Specifications Top platform Height Stair Riser Height Stair Tread Depth Stair Tread Width Overall Weight Waterton House, Waterton Industrial Estate Bridgend, South Wales,...
Open the catalog to page 2
All TBD (OWEN HOLLAND) LIMITED catalogs and technical brochures

Compare up to 10 products