Catalogs

>

SPECIFICATION SHEET FOR VivAir Airport Buses
Catalog excerpts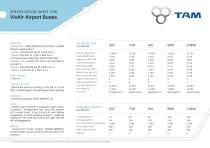 VivAir Airport Buses TAM DRIVELINE | ENGINE TYPE 1: MAN D0836 LOH41 EURO III or MAN D0836 LOH64 EURO V | RATING: 176 kW (240 HP) @ 2.400 min-1 | TORQUE: 925 Nm @ 1.200-1.800 min-1 3 X three-phase alternator 28V/(110A/120A) | ENGINE TYPE 2: DEUTZ TCD 2013 L06 4V EURO III or EURO V | RATING: 206 kW (280 ps) @ 2.300 min-1 | TORQUE: 1.050 Nm @ 1.400 min-1 TANK VOLUME | 190 Ltrs. EXHAUST SYSTEM | Reversible exhaust routing to the left or to the right | Depending on the passenger door opening GEARBOX | Automatic gearbox VOITH DIWA 851.3E AXLES | Kessler type LT51PL377, planetary rigid, driven & steered | Independent rear axle with Kessler LO71 wheel head | 8 air (4 front /4 rear) bellow suspension w. ECAS kneeling system | Lowering system on front and rear axle to the right and the left, disengageable BRAKES | Dual-circuit brake system (KNORR-BREMSE), service brake, security brake, parking brake, ECE conform TECHNICAL DATA ALL MODELS 72M 84L 88W 104WL Overall Length (OL) Overall Width (OW) Height with A/C (OH) Front overhang (FO) Wheel base (WB) Rear overhang (RO) Wheel track, front (FT) Wheel track, rear (RT) Angle of approach (°) Angle of departure(°) Turning radious (m) Net weight (t) Tire sizes PASSENGER CAPACITY ALL MODELS Standing height, inside (mm) 2.380 Floor height (mm) 350 >> The manufacturer reserves the right to make changes and/or improvements in designs & dimensions without notice and without incurring obligation.
Open the catalog to page 1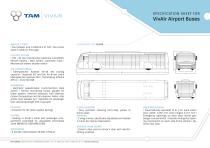 VivAir Airport Buses WHEELS / TYRES | Four wheels, size 13.00X22.5 ET 120 | Four tyres, sizes in table on first page AIR-CONDITIONING | Eberspaecher Suetrak 38-44 kW cooling capacity | Separate A/C and fan for driver cabin Eberspaecher Suetrak 403 | Thermoking Athenia APX III - 1012 (46 kW) ELECTRIC SYSTEM | 24V , 2X low maintenance batteries 12V/180Ah, electric battery | Main switch, automatic fuses | Mechanical battery isolator switch DASHBOARD | Electronic speedometer, multi-function stalk switch | Central monitoring lamps, gauges for brake system, reservoir pressure, fuel reserves,...
Open the catalog to page 2
Compare up to 10 products