Catalogs

>

SOVAM

>

PASSENGER STEPS PS6.13– PS7.15
Catalog excerpts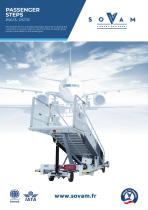 PASSENGER STEPS The SOVAM PS is a towable passenger staircase enabling the customers to access medium-sized aircrafts. Its design gives comfort and safety to the passengers.
Open the catalog to page 1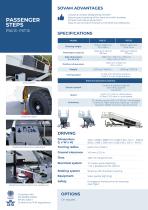 SOVAM ADVANTAGES Industrial chassis designed by SOVAM Steering and rotating of the front end with drawbar Simple and robust equipment Easy to use and drive thanks to the electrical assistance SPECIFICATIONS Models Docking height Passengers capacity Platform dimensions Weight Towing speed 15 kph // 9 mph (low position) 5 kph // 3 mph (high position) Electrical assistance (option) Solar panels Electric control Control of stabilizer legs (4) Stair lifting system Travel aid 2 kph // 1.2 mph in rabbit speed 0.5 kph // 0.3 mph in turtle speed 20 docking cycles (200 m // 220 yd + docking(leg...
Open the catalog to page 2
All SOVAM catalogs and technical brochures
Compare up to 10 products