Catalogs

>

SIM (Scan and Image Management) System
Catalog excerpts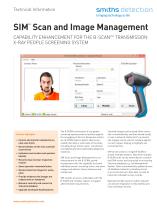 Technical Information smiths detection bringing technology to life Feature Highlights • Control and monitor individual's annual scan limits • Record details of who was scanned/ occurrences • Indicates scan location and operator identity • Records clear/unclear inspection results • Saves operator comments/notes • Review historical images for evaluation • Provide evidence that images are original and un-tampered • Network centrally and connect to 3rd party database • Upgrade existing B-SCAN systems The B-SCAN transmission X-ray people screening system protects facilities against the smuggling of illicit or dangerous materials. B-SCAN helps to detect objects concealed internally or externally on the body, including drugs, knives, guns, cell phones, contraband and other potentially dangerous materials. SIM (Scan and Image Management) is an enhancement for the B-SCAN; providing operators with the capability to control individual annual screening limits, and store images and data for future reference and comparison. SIM records all scans undertaken with the B-SCAN and compiles reports to support administrative requirements. Scanned images can be saved either manually or automatically, and then stored locally or over a network. Historical X-ray results and images can be used to compare against current images, helping to highlight any inconsistencies. SIM can be used on a single B-SCAN or across multiple systems. Data from multiple B-SCAN units can be networked to a centralised SIM server, and connected to an existing 3rd party database e.g. Jail Management System. Data is automatically updated across all database networks, providing access to accurate and up to date data, as well as historical individual screen records. Optional barcode scanner and/or webcam can also be integrated, to help identify and track individual records.
Open the catalog to page 1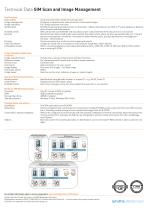 Technical Data SIM Scan and Image Management Key Functions Scan control Image management Image evaluation Identification B-SCAN control Records Printing Chain of evidence Compatible models Limit and control the number of scans per year Configure to save/not save, add comments, recall saved images Full image evaluation functions Identify people using barcode scanner or ID number • Obtain information from SIM or 3rd party database • Optional photo to assist with identification SIM controls the use of BSCAN and only allows scans to be performed if the annual limit is not reached Record all...
Open the catalog to page 2
All SMITHS DETECTION catalogs and technical brochures

Archived catalogs

Compare up to 10 products