Catalogs

>

ScanMobile™ 130100
Catalog excerpts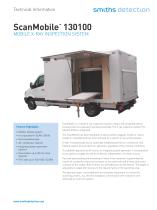 Technical Information smiths detectionScanMobile™ 130100 MOBILE X-RAY INSPECTION SYSTEM Feature Highlights • Mobile, flexible system • Incorporates HI-SCAN 130100 • Heat insulated body • Air-conditioner (option) • Integrated power generator (option) • Penetration up to 30 mm steel (typical) • Film safe up to ISO 1600 / 33 DIN ScanMobile is a mobile X-ray inspection system using a self-propelled vehicle (chassis) with an especially manufactured body. The X-ray inspection system HI-SCAN 130100 is integrated. The ScanMobile has been designed for places where luggage, freight or mail is loaded or unloaded and has to be checked for customs or security purposes. A heat-insulated body and an optionally installed powerful air-conditioner and heating system ensure optimum operation regardless of the climatic conditions. To establish operation at AC mains, an integrated power generator is incorporated as an option to supply the electrical devices independent of a mains source. Fast and easy loading and unloading of items to be inspected is guaranteed by means of a powerful motorized conveyor at the input side and a heavy duty roller conveyor at the output. Both of them can be folded up into the vehicle. The height is adjustable to adapt both devices to the requirements of the operating area. The operator space is provided with all necessary equipment to control the scanning process, e.g. monitor, keyboard, control panel with indicators and optionally an intercom system.
Open the catalog to page 1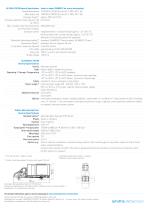 HI-SCAN 130100 General Specifications Tunnel dimensions Max. object size Conveyor height 1) Conveyor speed at mains frequency 50 Hz / 60 Hz Max. conveyor load even distributed over the whole conveyor Conveyor system Resolution (wire detectability) 3) Penetration (steel) 3) X-ray dose / inspection (typical) Film safety Duty cycle Anode voltage (refer to sheet 95588232 for more information) 1310 (W) x 1015 (H) [mm] • 51.6" (W) x 39.9" (H) 1300 (W) x 1000 (H) [mm] • 51.2" (W) x 39.4" (H) approx. 350 mm (13.8") 0.24 [m/s] 250 kg (551 lbs) integrated feed-in conveyor (length approx. 1.5 m...
Open the catalog to page 2
All SMITHS DETECTION catalogs and technical brochures

Archived catalogs

Compare up to 10 products