Catalogs

>

HI-SCAN 6046si
Catalog excerpts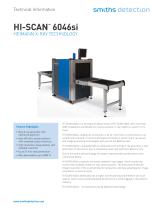 Technical Information smiths detectionHI-SCAN™ 6046si HEIMANN X-RAY TECHNOLOGY Feature Highlights • New X-ray generator with optimized spectrum • New HiTraX II system platform with extended scope of services • High resolution image display with doubled resolution • Up to 37 mm steel penetration • Wire detectability up to AWG 41 HI-SCAN 6046si is a consequent advancement of HI-SCAN 6040i, with more than 6000 installations worldwide the most successful X-ray inspection system in its class. HI-SCAN 6046si, despite all similarities, is by far more than a conventional X-ray system with a facelift. Crucial technological innovations concerning X-ray sensor and image processing technologies were part of the R&D process. HI-SCAN 6046si is equipped with an advanced multi-energy X-ray generator a new generation of electronics plus a completely novel high resolution detector line. Due to this optimized technology, the system demonstrates performance rates unachieved before. HI-SCAN 6046si produces extremely detailed X-ray images, which impress by a more than doubled number of real, physical pixels. The drastically enhanced image resolution of the scanned objects represents a decisive advantage for image evaluations in security areas. HI-SCAN 6046si additonally has a higher tunnel opening and therefore can scan objects, whose sizes exceed standard dimensions for hand luggage in the aviation industry. HI-SCAN 6046si - increased security by advanced technology.
Open the catalog to page 1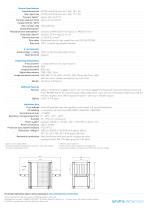 General Specifications Tunnel dimensions Max. object size Conveyor height 1) Conveyor speed at mains frequency 50 Hz / 60 Hz Max. conveyor load (evenly distributed) 5) Resolution (wire detectability) 2) Penetration (steel) 2) External dose rate Film safety Duty cycle 620 (W) x 460 (H) [mm] • 24.4" (W) x 18.1" (H) 615 (W) x 455 (H) [mm] • 24.2" (W) x 17.9" (H) approx. 694 mm (27.3") approx. 0.2 / 0.24 [m/s] 160 kg (352 lbs) standard: 40 AWG (0.08 mm) • typical: 41 AWG (0.07 mm) standard: 35 mm • typical: 37 mm ≤ 2 µSv/h (0,2 mrem) Guaranteed even for high speed films up to ISO 1600 (33 DIN)...
Open the catalog to page 2
All SMITHS DETECTION catalogs and technical brochures

Archived catalogs

Compare up to 10 products