Catalogs

>

HI-SCAN 130130T-2is
Catalog excerpts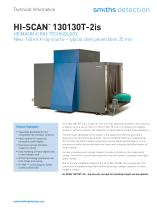 Technical Information smiths detectionHI-SCAN™ 130130T-2is HEIMANN X-RAY TECHNOLOGY New: 160 kV X-ray source - typical steel penetration 35 mm Feature Highlights • Especially developed for the integration into conveyor systems • Ideal method of inspecting europallets and freights • Dual view concept shortens inspection times • Easy handling of heavy objects due to low conveyor belt • HiTraX technology employing real time image processing • HI-MAT Plus technology for better material distinction HI-SCAN 130130T-2is is a state-of -the art X-ray inspection system for the scanning of objects up to a size of 130 cm x 130 cm (W x H). Due to its design the imaging system is perfectly suited to the inspection of large objects, freight and europallets. The particular advantage of the system is the equipment with two generators beaming in two directions (Dual View). The second beam direction is displaced at 90° and thus facilitates reliable inspections of even tightly packed objects in only one process while shortening inspection times and increasing the effectiveness of the procedure. Its new, innovative user concept makes it as easy to handle as the single-beam system. Even with a second beam direction, this new system is compact and highly space-saving. Due to the low installation height of the HI-SCAN 130130T-2is conveyor belt, the connection of supplementary feed- and/or discharge conveyor systems for heavy freight is simple. HI-SCAN 130130T-2is - the security concept for handling freight and europallets.
Open the catalog to page 1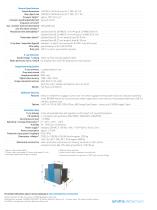 General Specifications Tunnel dimensions Max. object size Conveyor height 1) Conveyor speed (adjustable with frequency converter) max. conveyor load even distributed over the whole conveyor 7) Resolution (wire detectability) 3) standard (view A): 38 AWG (0.1 mm) • typical: 39 AWG (0.08 mm) standard (view B): 34 AWG (0.16 mm) • typical: 36 AWG (0.13 mm) Penetration (steel) 3) standard (view A): 32 mm • typical (view A): 35 mm standard (view B): 27 mm • typical (view B): 30 mm X-ray dose / inspection (typical) standard: 1.6 µSv (0.16 mrem) • with HI-MAT: 3 µSv (0.3 mrem) Film safety...
Open the catalog to page 2
All SMITHS DETECTION catalogs and technical brochures

Archived catalogs

Compare up to 10 products