Catalogs

>

HI-SCAN 10080 EDtS
Catalog excerpts
Technical Specifications smiths detection bringing technology to life Feature Highlights • Automatic detection of explosives • Analysis of Zf and density from independent views • High detection capability and low false alarm rate • High belt speed, thus high throughput up to 1,800 items/h • EU standard 2-compliant (acc. to regulation 1448/2006) • Evaluation in real time • Specially designed for multi-level systems • All 5 high-resolution X-ray images available for operator recheck • Fully integratable in automatic conveyor devices and networks for image distribution, system management, archiving and TIP Screening objects transported in the cargo hold of airplanes has historically represented a major challenge to the aviation industry. The evolution of this requirement to include 100% inspection of these objects has now become a critical element in maintaining traveler confidence and assuring the future success of the aviation industry. The automatic explosive detection system HI-SCAN 10080 EDfS represents the latest development of the proven Smiths Heimann detection technology. The abilities of the system help meet all requirements existing within a 100% screening environment. Using the latest developments in this sector, the EDfS offers major technological innovations with regard to the X-ray generator, the X-ray sensors and automatic image evaluation. Thus the EDfS is able to offer the highest detection rate in its class. With a tunnel opening of 107 cm in width and 81 cm in height, the system allows for the screening of oversized objects up to a length of 3.8 m, avoiding the need to divert to an alternate screening technology. Due to its detection capability, combined with a low false alarm rate, the system is able to screen up to 1,800 bags per hour - setting a new standard for automated screening technology. The EDfS, operating at 0.5 m/sec, has been specifically designed to meet the challenges of integration into automated conveyor systems. The EDfS can be integrated into existing or newly designed conveyor systems. Within the proven multi-level screening concept, all objects to be inspected are screened automatically for explosives by this high speed Level 1 system. Objects cleared by EDfS continue to their determined destination while the X-ray images of objects rejected in Level 1 are automatically diverted to a second security level for further evaluation. Should further inspection be necessary, the image and object are sent to Level 3. With lower throughput requirements for Level 3 screen-ers, further technologies exist for this application and implementation will depend on the security philosophy and regulations of the airport. Automation of the primary inspection process offers the added benefits of reducing staff requirements and recurring costs.
Open the catalog to page 1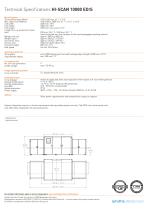 Technical Specifications HI-SCAN 10080 EDtS Main Features Tunnel dimensions (WxH) Max. object size (WxHxL) Unit width Unit height Unit length Length of X-ray protection tunnel, each Weight core unit Weight input-/ exit tunnel, each Service area Conveyor height Belt speed 900 mm, 35.4" 2); 1400 mm, 55.1" 1) (can be erected over the conveyor of the existing baggage handling system) approx. 3900 kg, 8600 lbs approx. 500 kg, 1,110 lbs 2) approx. 635 kg, 1,499 lbs 1) 1000 mm (both sides), 39.4" 800 mm, 31.5" 0.5 m/s, 98.5 ft/min Automatic detection Throughput Gap between objects up to 1800...
Open the catalog to page 2
All SMITHS DETECTION catalogs and technical brochures

Archived catalogs

Compare up to 10 products