Catalogs

>

CTX 5800™
Catalog excerpts
Technical Information smiths detectionCTX 5800™ COMPACT CT-BASED EXPLOSIVES DETECTION Feature Highlights • Belt speed of 0.14 m/s • Throughput of up to 450 BPH • Single X-ray generator, dualenergy design • Configurable for integration with BHS or operation as standalone • Proactive maintenance to protect your investment ECAC EDS Standard 3 Approved TSA Certified CAAC Certifed IPMO Certifed The CTX 5800 is the leading compact solution of checked baggage automatic explosives detection systems (EDS). It is part of the CTX family trusted by airports worldwide to deliver superior detection capabilities that meet ever-expanding security threats. Its computed tomography (CT)-based system delivers high-resolution 3-dimensional (3-D) imagery. Combined with its precise algorithmic calculations, the CTX 5800 provides an increased ability to identify threats, reduce False Alarm Rate (FAR) and lower operational costs. Due to its non-intrusive size, advanced detection capabilities and small footprint, the CTX 5800 is ideally suited for space- or weight-restricted environments such as medium and small airports, cargo operations, government buildings, and other critical sites. The CTX 5800 functions as both a standalone unit and a fully integrated solution with any baggage handling system (BHS). Dynamic screening allows the CTX 5800 to change inspection modes automatically on a bag-by-bag basis through commands from the BHS. Inspection options can also be adjusted based on security and operational needs or the demands of future screening protocols. The CTX 5800 is ECAC EDS Standard 3 approved, TSA certified, CAAC certified and IPMO certified.
Open the catalog to page 1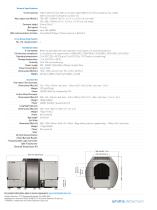 General Specifications Tunnel opening 750mm (20.5in.) [max width at conveyor edge], 408mm (16in.)[max height at max. width], 625mm (24.6in.)[max.height at conveyor ctr.] Max. object size [WxHxL] 750 x 387 x 1200mm (29.5 in. x 15.2 in. x 47.2in.) at max width 242 x 600 x 1200mm (9.5 in. x 23.6 in. x 47.2in.) at max height Conveyor height 616mm (24in.) Belt speed 0.14m/s Throughput up to 400-450BPH BHS communication interface ControlNet/100 Base T Ethernet direct to BHS PLC X-ray Generating System No. of X-ray generators Installation Data X-ray leakage EU directives compliance Operating...
Open the catalog to page 2
All SMITHS DETECTION catalogs and technical brochures

Archived catalogs

Compare up to 10 products