Catalogs

>

Checkpoint.Evoplus
Catalog excerpts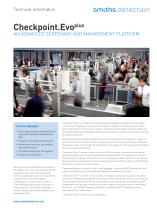 Technical Information smiths detection Feature Highlights • Fully integrates the checkpoint and generates valuable management data • Elevates checkpoint performance • Optimises resources and reduces operational costs • Increases passenger throughput • Raises security levels Security services, staffing and training are the largest recurring costs associated with operating airport security checkpoints. Ever more demanding security regulations, combined with a shrinking labour demographic, present airports with an unprecedented operational challenge: to improve security levels and throughput whilst maintaining or reducing labour and equipment costs. Checkpoint.Evoplus is an advanced screening and management platform which takes a collection of individual components and sensors unable to communicate with each other and transforms them into a single, integrated and intelligent solution; producing invaluable operational data and supporting new functions such as centralised screening and directed search. Networked images can be collected from all security lanes and delivered to a team of operators based in a remote location away from the distractions of the busy checkpoint. Suspicious areas are marked and classified on the images so staff know exactly where to focus secondary inspections. Checkpoint.Evoplus makes it easy to monitor KPIs and share information via a central dashboard which can also be accessed from mobile devices. It provides the real-time data needed to support instant decisions on resource allocation; and also the historical data and reports required for resource planning; general administration; and identifying bottlenecks in the screening process. Developed based on systems used in hold baggage screening (HBS), Checkpoint.Evoplus can be combined across both HBS and checkpoint screening solutions. Checkpoint.Evoplus delivers a new concept in checkpoint security solutions using data fusion and streamlined processes to increase airport operational efficiency and improve the passenger experience, whilst maintaining security standards. Completely vendor independent with an open interface which will support third party devices, technology and lanes. It is 2D and 3D ready and will be compatible with CT imaging systems expected on the market soon. Checkpoint.Evoplus. offers full CE compliance.
Open the catalog to page 1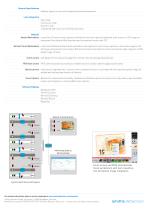 General Specifications Modular system for security checkpoint feature enhancement Lane Integration Stop mode Continuous mode Diverter mode compartible with iLane.evo and third party lanes Modules Analyst Workstation incent.view 2D based remote operator workstation with task optimized keyboard, dual screen, full SD image enhancement functionality. With directed search annotation function and TIP. Recheck Touch Workstation incent.view 2D based recheck desk workstation with ergonomic touch screen operation, dual screen support, full SD image enhancement functionality. With directed search...
Open the catalog to page 2
All SMITHS DETECTION catalogs and technical brochures

Archived catalogs

Compare up to 10 products