Catalogs

>

Acry Glo® High Solid Clearcoat CMO830080
Catalog excerpts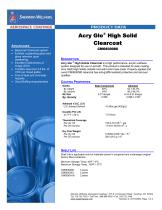 PRODUCT DATA AEROSPACE COATINGS • Basecoat/ Clearcoat system. • Exhibits outstanding gloss and gloss retention upon weathering. • Excellent Distinctness of Image (DOI). • Contains less then 3.5 lbs. of VOC per mixed gallon. • Free of lead and chromate hazards. • Good Buffing characteristics Acry Glo® High Solid Clearcoat CMO830080 Description Acry Glo High Solids Clearcoat is a high performance, acrylic urethane system designed for use on aircraft. This product is intended for clear coating Acry Glo® High Solids metallic and solid color base coats. Properly applied and cured CM0830080 clearcoat has anti-graffiti resistant protective and removal qualities. Coating Properties Solids: By weight By volume Wt./Gal. Sp. Gravity Admixed V.O.C. (3:1) U.S. Exempt Solvent Useable Pot Life at 77°F / 25°C Theoretical Coverage Per dry mil Per 25 microns Dry Film Weight Per dry mil Per 25 microns <3.5lbs./gal (420g/L) 1.5 Hours 730.0-761.0ft.2 / gal. 17.915-18.676 m2 / L 0.0059-0.0061 lbs. / ft.2 29.0-29.5 g / m2 Shelf Life Shelf Life is applicable only for materials stored in unopened and undamaged original factory filled containers. Minimum Storage Temp: 40°F / 4°C Maximum Storage Temp: 100°F / 37°C CM0830080: 3 years Sherwin-Williams Aerospace Coatings • 415 E. Commerce Street • Andover, KS 67002 Tel: 316.733.7576 • Toll Free: 888.888.5593 • Fax: 316.733.1348 www.swaerospace.com Revision 4, 07/10/2009, Page 1 of
Open the catalog to page 1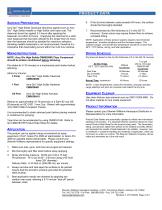 6. If the dry time between coats exceeds 48 hours, the surface should be thoroughly abraded. 7. Recommended dry film thickness is 2-3 mils (50-75 microns). Some colors may require thicker films to achieve complete hiding. NOTE: Application of these product systems requires recommended temperature / humidity conditions and film thickness ranges. The material, hangar, and aircraft skin temperature should be no lower than 55°F / 13°C before, during, and after application. Surface Preparation Acry Glo® High Solids Clearcoat should be applied over an Acry Glo® High Solids metallic or High Solids...
Open the catalog to page 2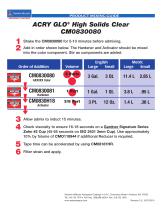 PRODUCT MIXING GUIDE AEROSPACE COATINGS ACRY GLO® High Solids Clear CM0830080 1 Shake the CM0830080 for 5-10 minutes before admixing. 2 Add in order shown below. The Hardener and Activator should be mixed into the color component. Stir as components are added. Allow admix to induct 15 minutes. Check viscosity to ensure 16-18 seconds on a Gardner Signature Series Zahn #2 Cup (45-65 seconds on ISO 2431 3mm Cup). Use approximately 10% by folume of CMO110944 if additional Reducer is required. Tape time can be accelerated by using CM08181HR. Filter strain and apply. Sherwin-Williams Aerospace...
Open the catalog to page 3
All Sherwin Williams catalogs and technical brochures
Compare up to 10 products