Catalogs

>

Ultra•Strip II Roll Labe
Catalog excerpts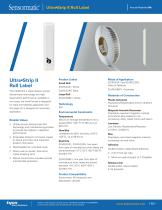 Ultra*Strip II Roll Label Acousto-Magnetic (AM) Ultra»Strip II Roll Label The Ultra*Strip II Label delivers proven Sensormatic technology and high deactivation performance. Available in two sizes, the small format is designed for hand and tabletop application and the large roll is designed for automatic application. Retailer Values // Utilizes proven Sensormatic AM technology and manufacturing process to provide the highest in detection performance // Small label footprint minimizes impact on brand promotion and important product information // Reactivatable for unlimited reuse // Works well on liquids, foils and in metal shopping carts // Robust construction provides optimal merchandise protection Product Codes Small Roll: ZLNRLE2K1: White ZLNRLE2K5: Black Large Roll: ZLNRLE85K1: White Technology AM Environmental Constraints Temperature Maximum storage temperature not to exceed 50°C (122° F) for 96 hours at 80% RH Humidity Unaffected by 80% humidity at 50°C (122°F), up to 96 hours Shelf Life ZLNRLE2K1, ZLNRLE2K5: two years from date of manufacture when labels are stored between 15°C-32°C (60°F-90°F), 30-80% RH. ZLNRLE85K1: one year from date of manufacture when labels are stored between 15°C-32°C (60°F-90°F), 30-80% RH. Product Compatibility Sensormatic AM detection and deactivation devices. Mode of Application ZLNRLE2K1 and ZLNRLE2K5: Hand or Tabletop ZLNRLE85K1: Automatic Materials of Construction Plastic Substrate Polystyrene/Polyethylene 0.3mm (0.012in) thickness Magnetic Acoustic Resonator Proprietary resonant magnetic material. Amorphous alloy based on iron, containing nickel, cobalt, boron and silicon Laminate Low Density Polyethylene/Polyester 0.119mm (0.0047in) Bias Proprietary semi-hard magnetic material containing iron and nickel Adhesive Double-coated, rubber-based adhesive: // 2.4mil thick per side // Minimum peel strength of 2.27kg/5lbs Release Liner Double-sided, silicon-coated 2 mil polyester Retail Solutions © 2015 Tyco Retail Solutions. All rights reserved. TYCO RETAIL SOLUTIONS and SENSORMATIC are marks and/or registered marks. Unauthorized use is strictly prohibited.
Open the catalog to page 1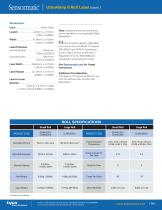 Note: Warranty terms and conditions are as specified in the applicable Sales Agreement. C€ The acousto-magnetic (AM) label is in conformity with RoHS II Directive 2011/65/EU and REACH Substances of Very High Concern as defined in Regulation (EC) No 1907/2006 and subsequent amendments to both. See Sensormatic.com for Usage Instructions Additional Consideration: This label is not recommended for use with the Sensormatic Contact Pad deactivator. PRODUCT CODE Number Splices Roll Weight Case Weight ROLL SPECIFICATIONS! Large Roll ZLNRLE85K1 4 splices, 1 leader splice 6 splices, 1 leader splice...
Open the catalog to page 2
All Sensormatic catalogs and technical brochures

Compare up to 10 products