Catalogs

>

UHF RFID Handheld Reader TSL1128
Catalog excerpts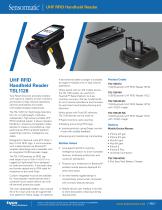 UHF RFID Handheld Reader TSL1128 Tyco Retail Solutions provides retailers with real-time visibility to their inventory and assets to help improve operations, optimize profitability and create memorable shopper experiences. The TSL1128 from Technology Solutions UK Ltd. is a lightweight, hardware independent, high-power portable UHF RFID handheld reader. It allows retailers flexibility in choosing compatible mobile devices to create a cost-effective, high-performance RFID handheld platform supporting inventory intelligence use cases. Designed to read and write EPC Class 1 Gen 2 UHF RFID tags, it communicates with mobile devices via Bluetooth® wireless technology and is available with an integrated 1D/2D barcode imager. The TSL1128 features an RFID tag read range of up to 4.5m (14.5 ft.) in a rugged but lightweight form designed for retail environments. It has been drop and tumble tested and is IP54 rated for resistance to dust and fluids. Custom integrated mounts are available for most popular mobile devices and a universal mount option allows use with off-the-shelf protective cases. The user replaceable battery has a typical life of 6+ hours and may be augmented with spares for heavy usage. An optional 4-slot external battery charger is available to support multiple units in high volume operations. When paired with an iOS mobile device, the TSL1128 reader can use Tyco's TrueVUE™ Retail Platform to drive inventory accuracy, the key fundamental for omni-channel excellence and the basis for optimized merchandise planning and allocation. When paired with TrueVUE software, TSL1128 devices can be used for: • Rapid inventory cycle counting • Reading and writing RFID tags • Locating products using Geiger counter mode with audible feedback • Receiving and transferring merchandise Retailer Values // Leverages TrueVUE's Inventory Intelligence solution to drive increased revenue, employee productivity and customer satisfaction // Protects your investment in Bluetooth® enabled mobile devices deployed for other retail tasks // Its retail tested rugged design is competitively priced when compared with similarly featured devices // Mobile device user inteface is familiar to store associates, reducing training requirements Product Codes TSL1128-EU 1128 Bluetooth UHF RFID Reader (ETSI) TSL1128-NA 1128 Bluetooth UHF RFID Reader (FCC) TSL1128-2D-EU 1128 Bluetooth UHF RFID Reader (ETSI) with 1D/2D imager TSL1128-2D-NA 1128 Bluetooth UHF RFID Reader (FCC) with 1D/2D imager Options Mobile Device Mounts • iPhone 4th gen. • iPhone 5th gen. • iPod 4th gen. • iPod 5th gen. • iPhone 6 • iPhone 6 Plus • Universal Connection TSL1136-4CHG 4-Slot Easy Pack Battery Charger Retail Solutions © 2015 Tyco Retail Solutions. All rights reserved. TYCO RETAIL SOLUTIONS and SENSORMATIC are marks and/or registered marks. Unauthorized use is strictly prohibited.
Open the catalog to page 1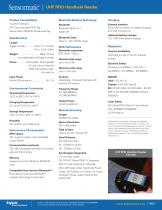 UHF RFID Handheld Reader Bluetooth Wireless Technology Bluetooth Bluetooth Version 2.1 Apple iAP Bluetooth Class Class 2 - 10m (32.8ft) range RFID Performance Standards supported EPC Class 1 Gen 2 Nominal read range Up to 4m (13ft) Nominal write range Up to 1.22m (4ft) 4.2 volt Lithium Polymer 2200 mAh battery pack, 8.4 watt hrs Charging External interface MicroUSB connector for battery charging and USB connectivity Optional desktop charger TSL 1136 4-Slot battery charger Regulatory Country Availability Approved for use in the US, Canada, Europe Electrical Safety Certified to UL60950-1, CSA...
Open the catalog to page 2
All Sensormatic catalogs and technical brochures

Compare up to 10 products