Catalogs

>

UHF RFID Handheld Reader RFD8500
Catalog excerpts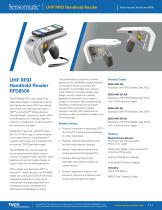 UHF RFID Handheld Reader Radio Frequency Identification (RFID) UHF RFID Handheld Reader RFD8500 The RFD8500 RFID sled reader from Zebra Technologies is designed to easily add high-performance RFID tag reading and writing with barcode scanning to iOS™ and Android™ mobile devices. The lightweight, ergonomic reader offers full-shift battery life, making it ideal for inventory management, product location and replenishment tasks. Designed to read and write EPC Class 1 Gen 2 UHF RFID tags, it communicates with mobile devices using Bluetooth® wireless technology and is available with an optional 1D/2D barcode imager. The RFD8500 has a comprehensive line of accessories including custom mounts for popular mobile devices, spare batteries and a 3-slot cradle charger to support high volume retail operations. When paired with approved iOS™ or Android™ mobile devices, the RFD8500 reader can use Tyco's TrueVUE® Inventory Intelligence software to cycle count inventory at very high speed and with increased accuracy compared with traditional barcode-based counting. This combination of software, mobile device and the RFD8500 enables retailers to increase inventory accuracy, the foundation for profitable omni-channel order fulfillment. Product locator uses Geiger counter mode with audible feedback to efficiently find a specific product in the store. Merchandise being received or transferred can be quickly counted and processed to update inventory records. RFID labels can be read and written as needed to replace lost or missing tags. Retailer Values // Protects investment in approved iOS™ or Android™ mobile devices deployed for other retail tasks // Reduces training requirements with familiar mobile device interface // Delivers high-capacity battery and unique power-optimizing algorithm // Features fast tag capture and extended read range compared to similar devices // Enables upgrades to support new standards, devices and features with unique software-defined reader Product Codes 8500-HHC-NA Bluetooth UHF RFID Reader Sled (FCC) 8500-HHC-2D-NA Bluetooth UHF RFID Reader Sled (FCC) with 1D/2D barcode imager 8500-HHC-EU Bluetooth UHF RFID Reader Sled (ETSI) 8500-HHC-2D-EU Bluetooth UHF RFID Reader Sled (ETSI) with 1D/2D barcode imager Options Mobile Device Mounts iPod Touch 5th, 6th generation iPhone 5 or newer Quad Lock® Battery Door, required for mounting iOS devices Android TC55 Mount Adapter Android MC40 Mount Adapter Charging Spare 1.5X battery 8500 3 Slot Charging Cradle Retail Solutions Copyright © 2016 Tyco Retail Solutions. All rights reserved. TYCO RETAIL SOLUTIONS, SENSORMATIC and the product names listed in this document are marks and/or registered marks. Unauthorized use is strictly prohibited.
Open the catalog to page 1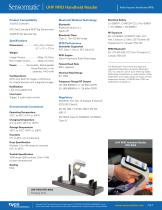 UHF RFID Handheld Reader Radio Frequency Identification (RFID) Product Compatibility TrueVUE Software EPC Gen2 standard RFID Tag Sensormatic AM/RFID 2D Barcode Tag PowerPrecision Li-Ion batteries, 4410 mAh Configurations RFID with SE4710 Imager or RFID-only for mobile devices with integrated imager Notification LED and audible tone User Input Trigger, 3 push button switch Bluetooth Wireless Technology Bluetooth: Bluetooth Version 2.1, Apple iAP Bluetooth Class: Class 2, 10m (32.8ft) range RFID Performance Standards Supported EPC Class 1 Gen 2; EPC Gen2 V2 RFID Engine Zebra Proprietary Radio...
Open the catalog to page 2
All Sensormatic catalogs and technical brochures

Compare up to 10 products