Catalogs

>

UHF RFID Handheld Reader MC3190-Z
Catalog excerpts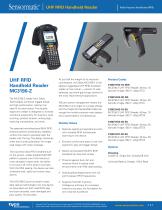 UHF RFID Handheld Reader UHF RFID Handheld Reader MC3190-Z The MC3190-Z reader from Zebra Technologies combines rugged design and high performance, making it an ideal fit for retail stores. The durable, ergonomic reader is designed to increase workforce productivity for inventory cycle counting, product location, writing tags, receiving merchandise, and more. The patented omnidirectional MAX RFID antenna delivers extraordinary reliability without the need to precisely align the reader with the tag. The design combines linear and circular polarization for longer read range with wider coverage. This business-class RFID handheld built on the proven, widely adopted MC3100 platform, passes one of the industry's most stringent impact tests: the ability to survive a 4ft (1.2m) drop to concrete. With the IP54 sealing, the device can also withstand dust, spills and routine wipe downs. This MC3190-Z puts two best-in-class data capture technologies into one device so associates can both read RFID tags and scan barcodes, even damaged and poor quality 1-D barcodes. At just half the weight of its industrial counterparts, the Zebra MC3190-Z is the lightest ruggedized UHF RFID handheld reader on the market — period. Its well-balanced, gun-style grip brings comfort to the most read-intensive applications. Efficient power management means the MC3190-Z runs longer on a single charge, and the Single Slot Serial/USB cradle can charge the mobile computer main battery and a spare battery simultaneously. Retailer Values // Reduces capital and operational costs with versatile RFID and barcode scanning in one device // Ensures comfort and ease of use with ergonomic grip and trigger design // Meets and exceeds MILSTD 810F standards for drop and tumble // Protects against dust, dirt and moisture found in typical retail environments with IP54-rated sealing // Assists global deployments with US and European RFID frequencies // Supports TrueVUE Inventory Intelligence software for increased inventory accuracy, the foundation for omni-channel excellence Product Codes 3190Z-HH2-1D-WW MC3190-Z UHF RFID Reader, 48 key, 1D barcode imager, 802.11 a/b/g (FCC) 3190Z-HH2-2D-NA MC3190-Z UHF RFID Reader, 48 key, 2D barcode imager, 802.11 a/b/g (FCC) 3190Z-HH2-1D-EU MC3190-Z UHF RFID Reader, 48 key, 1D barcode imager, 802.11 a/b/g (ETSI) 3190Z-HH2-2D-EU MC3190-Z UHF RFID Reader, 48 key, 2D barcode imager, 802.11 a/b/g (ETSI) 3190Z-HH1-2D-EU MC3190-Z UHF RFID Reader, 28 key, 2D barcode imager, 802.11 a/b/g (ETSI) Options Charging Cradle Kit, Single Slot, Serial/USB (US) Universal Battery Charger, 4-Slot Base Retail Solutions Copyright © 2016 Tyco Retail Solutions. All rights reserved. TYCO RETAIL SOLUTIONS, SENSORMATIC and the product names listed in this document are marks and/or registered marks. Unauthorized use is strictly prohibited.
Open the catalog to page 1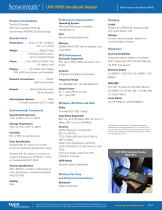 UHF RFID Handheld Reader Radio Frequency Identification (RFID) Product Compatibility TrueVUE Software EPC Gen2 standard RFID Tag Sensormatic AM/RFID 2D Barcode Tag Specifications 1-D laser scanner and 2-D imager Performance Characteristics Operating System Microsoft® Windows Embedded Handheld 6.5.3 CPU Marvell PXA320 @ 624 MHz Memory 256MB RAM/1GB Flash as shipped, user expandable RFID Performance Standards Supported EPC Gen 2 DRM (DRM compliant up to 0.5W) Antenna Integrated Orientation Insensitive Frequency Range EU: 865-868 MHz; US: 902-928 MHz Output Power EU: 1 watt ERP for Europe US:...
Open the catalog to page 2
All Sensormatic catalogs and technical brochures

Compare up to 10 products