Catalogs

>

Multipurpose RFID Reader
Catalog excerpts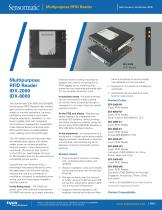 Radio Frequency Identification (RFID) Multipurpose RFID Reader Multipurpose RFID Reader IDX-2000 IDX-8000 The Sensormatic IDX-2000 and IDX-8000 Multipurpose RFID Readers help retailers gain real-time visibility into inventory and assets to improve operations, optimize profitability and create a memorable shopper experience. Available in 2- and 8-port models, both with integrated remote device management capabilities, these devices deliver enterprise-class RFID performance and dependability when reading and writing RFID tags. The IDX readers ensure high read rates and reliable data capture with dense reader mode and noise-cancellation features proven in retail deployments worldwide. The devices also conform to the EPC Low Level Reader Protocol (LLRP) standard and can be used with any compatible control system. Using Power over Ethernet (PoE), a technology that passes electrical power and data safely over Ethernet cabling, reduces the cost and complexity of installation compared to dedicated power wiring, and minimizes space needed in existing conduits. In the fitting room - IDX-2000 can power up to two individual antennas and IDX-8000 can power up to eight individual antennas (wall or ceiling mounted) so retailers can monitor the presence of RFID-tagged items, improving loss prevention and capturing actionable data for this valuable conversion zone. In transition areas - Multiple antennas can be connected to create a portal to monitor items at passing through a chokepoint or at impact doors to update inventory location. At the POS and kiosks - Readers can speed checkout by integrating with existing POS systems, while providing item-level transaction visibility using the Sensormatic IDKM AM/RFID detacher or IDA-1000 Work Surface Antenna. In the stockroom - as components of a workstation, a reader and antenna enable tagging received, transferred or returned merchandise, and transitioning items between zones for improved inventory accuracy. Retailer Values // Drive consistent inventory accuracy with enterprise-class quality and reliability // Reduce installation costs and simplify wiring requirements with Power over Ethernet // Manage remotely over the network or locally using an Ethernet over USB connection, allowing for device health monitoring and maintenance // Supports industry-standard LLRP enabling inbound and outbound Web Service interfaces to accommodate new applications and use cases // Deployed in thousands of installations worldwide // Withstands dirt and electrical noise found in retail stores Product Codes IDX-2000-N1 2-port RFID Reader IDX-8000-N1 8-port RFID Reader North America 902-928MHz, FCC IDX-2000-E1 2-port RFID Reader IDX-8000-E1 8-port RFID Reader Europe 865-868MHz, ETSI IDX-2000-W1 2-port RFID Reader IDX-8000-W1 8-port RFID Reader Sub-band of 902-928MHz for China, Korea, Japan and more* IDX-2000-W2 2-port RFID Reader IDX-8000-W2 8-port RFID Reader Sub-band of 902-928MHz for Australia, Singapore, Hong Kong, Taiwan, Brazil and others* * Refer to IDX-2000/8000 Quick Start Guide for current list of approved countries Product Compatibility Retail Solutions © 2015 Tyco Retail Solutions. All rights reserved. TYCO RETAIL SOLUTIONS and SENSORMATIC are marks and/or registered marks. Unauthorized use is strictly prohibited.
Open the catalog to page 1
Multipurpose RFID Reader Radio Frequency Identification (RFID) Sensormatic IDA-1000 RFID Work Surface Antenna (4dBiL) Sensormatic IDA-3100 Beam Steerable RFID Antenna (6dBiL) (except Korea) Sensormatic IDKM-1000/1010 RFID SuperTag detacher (<-13dBiL) Motorola AN480-CL66100WR RFID Antenna (6dBiL) EPC Gen2 Std. RFID Antennas and Tags Specifications Dimensions 2/8 monostatic RP-SMA ports 1 USB Device (Type B) port 1 USB Host (Type A) port 2 RS-485 ports (RJ45) GPIO 4 in pouts/ 4 outputs (DE15) 1 x 10/100base-T (RJ45) 1 x 10/100base-T Ethernet switch (RJ45) Environmental Constraints Temperature...
Open the catalog to page 2
All Sensormatic catalogs and technical brochures

Compare up to 10 products