Catalogs

>

AP Sheet Label
Catalog excerpts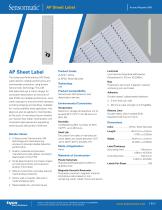 AP Sheet Label Acousto-Magnetic (AM) AP Sheet Label The Advanced Performance (AP) Sheet Label delivers reliable performance and merchandise protection using proven Sensormatic technology. This AM EAS label features a robust design for consistent deactivation at the point-of-sale (POS) and reliable performance, even when exposed to environmental stressers including shipping and handling. Available for in-stozxzxdfdfre hand application, this label can also be applied to merchandise at the point of manufacturing so retailers can receive floor-ready merchandise with consistent label placement-expediting receiving and selling floor fulfillment. Retailer Values // Utilizes proven Sensormatic AM technology and manufacturing process to provide reliable detection performance // Quality materials and precision manufacturing help deliver consistent deactivation at the POS // Small label footprint minimizes impact on brand promotion and important product information // Robust construction provides optimal merchandise protection // Works well on liquids, foils and in metal shopping carts // Reactivatable for unlimited reuse Product Codes ZLAPS1: White ZLAPS2: Mock Barcode Technology AM Product Compatibility Sensormatic AM detection and deactivation devices. Environmental Constraints Temperature Maximum storage temperature not to exceed 50°C (122° F) for 96 hours at 80% RH. Humidity Unaffected by 80% humidity at 50°C (122°F), up to 96 hours. Shelf Life Two years from date of manufacture when labels are stored between 15°C -32°C (60°F-90°F), 30-80% RH. Mode of Application Hand Materials of Construction Plastic Substrate Polystyrene/Polyethylene 0.254mm (0.010in) thick. Magnetic Acoustic Resonator Proprietary resonant magnetic material. Amorphous alloy based on iron, containing nickel, cobalt, boron and silicon Retail Solutions © 2015 Tyco Retail Solutions. All rights reserved. TYCO RETAIL SOLUTIONS and SENSORMATIC are marks and/or registered marks. Unauthorized use is strictly prohibited.
Open the catalog to page 1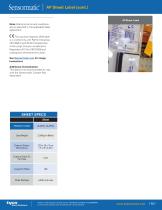 AP Sheet Label (cont.) SensormatiC Note: Warranty terms and conditions are as specified in the applicable Sales Agreement. C€ The acousto-magnetic (AM) label is in conformity with RoHS II Directive 2011/65/EU and REACH Substances of Very High Concern as defined in Regulation (EC) No 1907/2006 and subsequent amendments to both. See Sensormatic.com for Usage Instructions Additional Consideration: This label is not recommended for use with the Sensormatic Contact Pad deactivator. SHEET SPECS| Retail Solutions © 2015 Tyco Retail Solutions. All rights reserved. TYCO RETAIL SOLUTIONS and...
Open the catalog to page 2
All Sensormatic catalogs and technical brochures

Compare up to 10 products