Catalogs

>

AMS9060 Controller
Catalog excerpts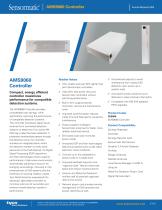 AMS9060 Controller AMS9060 Controller Compact, energy efficient controller maximizes performance for compatible detection systems. The AMS9060 Controller provides considerable cost savings, while significantly improving the performance of compatible detection systems. This controller processes signal inputs received from connected detection systems to determine if an active AM EAS tag or label has been detected. If protected merchandise passes through the detection zone, the controller activates an integrated alarm within the detection system to notify store personnel of the theft attempt. Its Digital Signal Processing (DSP) algorithms and filter technologies ensure superior performance in high-noise environments, automatically adjusting to account for changing surroundings. Focusing on the enhancement of EAS systems and the fulfillment of evolving retailers' needs, Tyco Retail Solutions engineered this advanced, lightweight controller to minimize total cost of ownership and enhance overall detection system's performance. Retailer Values // 10% smaller and over 50% lighter than prior Sensormatic controllers // Uses 25% less power than prior Sensormatic controllers without sacrificing performance // Built-in 4kV surge protection minimizes service and maintenance costs // Improved synchronization reduces install time and false alarms caused by interferences // Output supports intelligent Sensormatic antennas for faster, more reliable install and service // Eliminates noise and minimizes power waste // Innovative DSP and filter technologies help ensure performance under harsh electronic noise conditions // Controls up to four pedestals to protect wide or multiple exits // Improved backfield reduction and "tags-too-close" feature maximizes space and reduce nuisance alarms // Jammer and Metal-Foil Detection notifies staff of potential organized retail crime activity // Network plug-in card provides remote management of EAS hardware and access reporting via web // Automatically adjusts to avoid interference from nearby EAS detectors upon power up or system reset // Auto-save function prevents count data loss in case of power interruption // Compatible with AM EAS pedestal RFID upgrades Product Codes ZE9060 AMS9060 Controller Product Compatibility Synergy Pedestals Door-Max Synergy Network Card Sensormatic AM Sensors UltraExit 2.4 Acrylic Pedestal Pro-Max Ranger Antennas Satellite Antennas Local Device Manager II (LDM II) UltraLink Metal-Foil Detection Plug-In Card Digital Remote Alarm Retail Solutions © 2016 Tyco Retail Solutions. All rights reserved. TYCO RETAIL SOLUTIONS and SENSORMATIC are marks and/or registered marks. Unauthorized use is strictly prohibited.
Open the catalog to page 1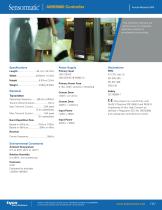 This controller improves the performance of compatible detection systems at considerable cost savings. (2m pedestals) Burst Repetition Rate Declarations EMC 47 CFR, Part 15 EN 300 330 EN 301 489 RSS-210 Safety IEC 60950-1 C€ This product is in conformity with RoHS II Directive 2011/65/EU and REACH Substances of Very High Concern as defined in Regulation (EC) No 1907/2006 and subsequent amendments to both. Environmental Constraints Ambient Temperature 0°C to 50°C (32°F to 122°F) Relative Humidity 0 to 90%, non-condensing Enclosure IPXO Evaluated for altitudes <2000m (6500ft) Retail Solutions...
Open the catalog to page 2
All Sensormatic catalogs and technical brochures

Compare up to 10 products