Catalogs

>

APM 2354, UNS S31603
Catalog excerpts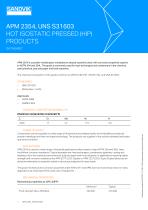 APM 2354 is a powder metallurgical, molybdenum alloyed austenitic steel, with corrosion properties superior to ASTM 304 and 304L. The grade is commonly used for heat-exchangers and condensers in the chemical, petrochemical, pulp and paper and food industries. The chemical composition of the grade conforms to ASTM A182-F61, ASTM 316L, and UNS S31603. STANDARDS - UNS: S31603 - EN Number: 1.4435 Approvals - ASTM A988 - ASME N-834 CHEMICAL COMPOSITION (NOMINAL) % Chemical composition (nominal) % C Cr Mo Ni N FORMS OF SUPPLY Components can be supplied in a wide range of dimensions and shapes thanks to the flexibility provided by powder metallurgy and near net shape technology. The products are supplied in the solution annealed and water quenched condition. APPLICATIONS APM 2354 is used for a wide range of industrial applications where steels of type ASTM 304 and 304L have insufficient corrosion resistance. Typical examples are: heat exchangers, condensers, pipelines, cooling and heating coils in the chemical, petrochemical, pulp and paper and food industries. In applications requiring higher strength and corrosion resistance the APM 2377 (22Cr Duplex) or APM 2327 (25Cr Super Duplex) alloys are an attractive alternative to austenitic steels in structures subjected to heavy loads. The good mechanical and corrosion properties make APM 2377 and APM 2327 an economical choice in many applications by reducing the life cycle cost of equipment. MECHANICAL PROPERTIES Mechanical properties at 20°C (68°F) Minimum* Typical Datasheet updated 5/23/2017 2:48:16 PM (supersedes all previous editions)
Open the catalog to page 1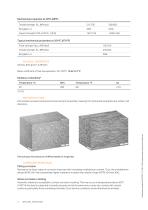 Typical mechanical properties at 354°C (670°F) Proof strength, Rp0.2, MPa (ksi) Tensile strength, Rm, MPa (ksi) Elongation, A PHYSICAL PROPERTIES Density: 8.03 g/cm3, 0.29 lb/in3 Mean coefficient of thermal expansion, 30-100°C: 16.5x10-6/°C Modulus of elasticity* Temperature, °C MPa Temperature, °F ksi * (x103) MICROSTRUCTURE Hot isostatic pressed components have isotropic properties, meaning the mechanical properties are similar in all directions. CORROSION RESISTANCE Pitting corrosion Resistance to these types of corrosion improves with increasing molybdenum content. Thus, the...
Open the catalog to page 2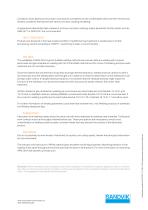 Conditions when plants are shut down must also be considered, as the condensates which are then formed can develop conditions that lead to both stress corrosion cracking and pitting. In applications demanding high resistance to stress corrosion cracking, duplex (austenitic-ferritic) steels, such as APM 2377 or APM 2327 are recommended. HEAT TREATMENT Products are delivered in the heat-treated condition. If additional heat treatment is needed due to further processing, solution annealing at 1060ºC + quenching in water is recommended. WELDING The weldability of APM 2354 is good. Suitable...
Open the catalog to page 3
All SANDVIK MATERIALS TECHNOLOGY catalogs and technical brochures

Compare up to 10 products