Catalogs

>

CHEMFILM® MR
Catalog excerpts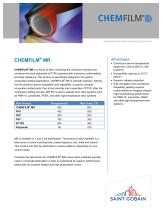 CHEMFILM Engineered for Demanding Applications CHEMFILM® MR is a family of films combining the chemical inertness and universal non-stick properties of PTFE polymers with maximum conformability and heat resistance. This product is specifically designed to be used in composite molding applications. CHEMFILM® MR is naturally isotropic, helping the film achieve superior elongation and drapability, crucial for complex composite molded parts. Due to the naturally inert properties of PTFE, after the composite molding process, MR film is able to release from resin systems such as PMR-15, polyimides, PEEK, and other high temperature resin systems. CHEMFILM® MRFilm Product Advantages • Continuous service temperature range from -200 to 260°C (-328 to 500°F) • Successfully used up to 315°C (600°F) • Superior release properties • High elongation and unmatched drapability yieliding superior conformability for irregular shapes High temperatures performance for PMR-15, polyimides, PEEK and other high temperature resin systems MR is available in 1 and 2 mil thicknesses. The product is also available in a wide array of colors including blue, purple/raspberry, red, white and natural. This product can also be perforated in various patterns, depending on your unique needs. Compare the data shown for CHEMFILM® MR versus other materials typically used in composite fabrication in order to understand its superior performance, particularly for complex shapes and high temperature resins.
Open the catalog to page 1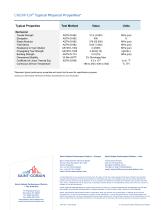 Typical Properties Test Method Value UnitsMechanical Tensile Strength Elongation E I astic Modulus Y ield Stress Resistance to Tear Initiation Propagating Tear Strength Bursting Strength Dimensional Stability Coefficient of Linear Thermal Exp. MPa (psi) % MPa (psi) MPa (psi) MPa (psi) kgF(lbs.) MPa (psi) in./in. oF Continuous Service Temperature C (oF) *Represent typical performance properties and should not be used for specification purposes Contact your Saint-Gobain Performance Plastics representative for more information. SAINT-GOBAIN Saint-Gobain Performance Plastics — Europe...
Open the catalog to page 2
All SAINT-GOBAIN PERFORMANCE PLASTICS - SPECIALTY FILMS catalogs and technical brochures

Compare up to 10 products