Catalogs

>

7000 Series Film Release Liners
Catalog excerpts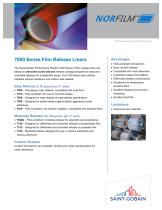 NORFILM'/ml Performance Coated Solutions Advantages • FDA-compliant formulations • Easy, smooth release • Compatible with most adhesives • Controlled release formulations • Differential release constructions • Excellence for temperature-sensitive films • Excellent abrasion and solvent resistance • Excellent shelf life Limitations • Expensive raw materials 7000 Series Film Release Liners The Saint-Gobain Performance Plastics 7000 Series of film release liners are based on ultraviolet cured silicone release coatings designed for easy and controlled releases for multiple-film bases. The 7000 Series also exhibits excellent solvent resistance and uniform web release. Easy Release (< 30 grams per 2" peel) • 7005 - All purpose, easy release, compatible with most films. • 7015 - FDA-compliant, for use on most film bases. • 7826 - Designed for easy release on high-density polyethylene. • 7808 - Designed for stable release against highly aggressive acrylic adhesives. • 7819 - FDA-Complaint, low silicone migration, compatible with selected films. Moderate Release (30-100 grams per 2" peel) • 7540A - FDA-compliant, moderate release for polyolefin and polystyrene. • 7726 - Designed for differential and controlled release on polyethylene film. • 7732 - Designed for differential and controlled release on polyester film. • 7754 - Moderate release designed for use on various substrates with various adhesives. Custom Release Custom formulations are available. Contact your sales representative for more information.
Open the catalog to page 1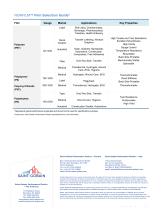 Label Roll Label, Overlaminates, Beverage, Pharmaceutical, Toiletries, Health & Beauty Decal Graphic Transfer Lettering, Window Graphics Solar, Gaskets, Nameplate, Automotive, Construction, Composites, Free Adhesives One/Two Side, Transfer High Tensile and Tear Resistance Excellent Smoothness High Clarity Gauge Control Temperature Resistance Recyclable Back Side Printable Mechanically Stable Spliceable Medical Transdermal, Hydrogels, Wound Thermoformable Good Stiffness Back Side Printable Thermoformable Tear Resistance Conformable High Yield Polystyrene (PS) Polyvinyl Chloride (PVC)...
Open the catalog to page 2
All SAINT-GOBAIN PERFORMANCE PLASTICS - SPECIALTY FILMS catalogs and technical brochures

Compare up to 10 products