Catalogs

>

PN2 Aerospace Grade Aramid Fiber Honeycomb
Catalog excerpts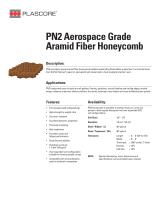 Description: PN2 aerospace grade aramid fiber honeycomb exhibits outstanding flammability properties. It is manufactured from DuPont Nomex® paper (or equivalent) and coated with a heat resistant phenolic resin. Applications: PN2 honeycomb uses include aircraft galleys, flooring, partitions, aircraft leading and trailing edges, missile wings, radomes, antennas, military shelters, fuel tanks, helicopter rotor blades and navy bulkhead joiner panels. Availability: Densities: PN2 honeycomb is available in sheets, blocks or cut to size pieces in both regular hexagonal and over expanded (OV) cell configurations. Cell Sizes: 1/8" - 1/4" Sheet "Ribbon" (L): 48" typical Sheet "Transverse" (W): 96" typical • Fire resistant (self extinguishing) • High strength to weight ratio • Corrosion resistant • Excellent dielectric properties • Thermally insulating • High toughness • Excellent creep and fatigue performance • Good thermal stability • Densities as low as 1.5 lb/ft3 (24 kg/m3) • Over expanded cell configuration suitable for forming simple curves • Compatible with most adhesives used in sandwich composites Thickness: ± .006" (under 2" thick) NOTE: Special dimensions, sizes, tolerances and specifications can be provided upon request.
Open the catalog to page 1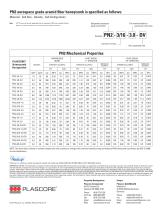 Material - Cell Size - Density - Cell Configuration Note: 1/8" OV core can be over expanded only to a maximum of 20% over nominal cell size. ®Nomex is a registered trademark of E.I. DuPont de Nemours, Wilmington, Delaware. NOTE: The above data is based on variable sample sizes and is subject to change with continued manufacturing and testing of PN2 honeycomb core blocks per MIL-C-81986 at room temperature. Plascore, Inc., employs a quality management system that is Nadcap, AS/EN/JISQ 9100, ISO 9001:2008 and ISO 14001:2004 certified. IMPORTANT NOTICE: The information contained in these...
Open the catalog to page 2
All PLASCORE GMBH & CO KG catalogs and technical brochures

Compare up to 10 products