Catalogs

>

Nikon

>

Autocollimators
Catalog excerpts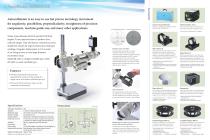 Autocollimator is an easy-to-use but precise metrology instrument for angularity, parallelism, perpendicularity, straightness of precision components, machine guide-way and many other applications. Case for Autocollimator Viewfield diagram (6B-LED) Aluminum storage case for Autocollimator 6D/6B and 6D-LED/6B-LED. LED illumination unit for retrofitting onto Autocollimator 6B/6D illumination unit. Power source: AA batteries x2, AC adaptor Nikon Autocollimator 6B-LED and 6D-LED both employ 70 mm aperture lenses to produce clear reflected images. They also feature extremely accurate double line...
Open the catalog to page 2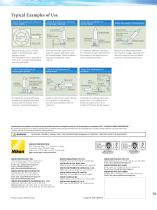 Check the angular accuracy of rotary tables Check the deflection of elastic or springy materials Check the parallelism of end surfaces Check the angle of work pieces Measure the accuracy of rotary tables or dividing heads using polygon mirrors. The octahedral mirror measures in units of 45°, and the dodecahedral mirror in units of 30°. Affix the mirror the specimen and read the angular deflection using the autocollimator. Small vibrations may also be detected in this manner. Compare the difference between the crosshair images reflected from the surface of the specimen and from a standard...
Open the catalog to page 3
All Nikon catalogs and technical brochures

Compare up to 10 products