Catalogs

>

MSA

>

LA100 Helmet
Catalog excerpts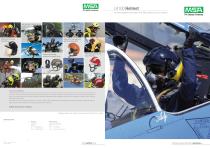 Basic helmet for TopOwl system LA100 Helmet_A helmet adapted to the needs of jet fighter pilots and crew members /VISA The Safety Company Helmets for structural fire-fighting Helmets for helicopter and general aviation pilots Helmets and hearing protectors for special forces Helmets for forest fire and rescue missions Trust & Durability For nearly 100 years our passionate mission of safety empowers us, "The Safety Company", to protect lives. We are committed to providing the latest in innovative, best-in-class safety solutions that feature integrated systems capability and allow our customers to return "Home" safely to their families and friends. Every day our customers place their lives in our hands. In return, we provide them with protection they can trust, and their stories become our stories. Hand in hand we partner with our customers to earn that trust. At MSA, Every Life has a Purpose. Photography credits: C.Tardy, C.Zaglia, L. De Souza, A.Pecchi, R. Michelin, P.Cier, L. Lacombe Your direct contact MSA International 1000 Cranberry Woods Drive Cranberry Township, PA 16066 USA Phone +1-724-776-8626 Fax +1-724-741-1559 E-mail msa.international@MSAsafety.com L Subject to change without notice ID 37-302.2 GB/01 Because every life has a purpose...
Open the catalog to page 1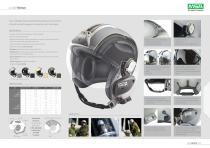 /VISA The Safety Company The LA 100 flight helmet is dedicated to pilots and crew members of combat aircrafts equipped with ejection seats and oxygen. Specifications • Two sizes of shell and personalisation kit for a perfect fit • Dual visor lightweight helmet • Impact and penetration resistance ensured by an aramid / carbon fibre shell and high density expanded polystyrene impact cap • Retention system is developed for optimal security and fit • High level of passive noise reduction • Windblast: high speed resistance front and 45° yaw • UV400 visors with high optical quality: clear, solar...
Open the catalog to page 2
All MSA catalogs and technical brochures

Compare up to 10 products