Catalogs

>

MEDOP

>

P2 RD PAD fi lter
Catalog excerpts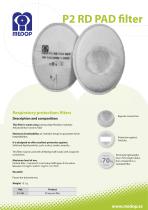 Respiratory protection: filters Bayonet connection Description and composition: This filter is made using cutting-edge filtration materials: Advanced Non-wovens Fiber Maximum breathability: air chamber design to guarantee lower breathabilities. Protection against: Particles. It is designed to offer excellent protection against: Solid and liquid particles, such as dust, smoke, aerosols... This filter may be used with all Medop half masks with a bayonet connection. Maximum level of use: Particle filter - Use level 2: Limit value 5000 ppm; 0.5% volum. Between 10 mg/m3 and 0.1 mg/m3 (12 x TLV) E Extremely lightweight. O Over 70% weight reduct tion compared to a s standard filter. Reusable Passes the dolomite test. Weight: 13.1 g Ref.
Open the catalog to page 1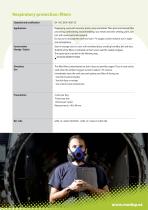 Standard and certification EN 143 CE/EN 14387 CE Applications Degreasing, work with concrete, bricks, stone and plaster, fibre glass and mineral fibre Conservation Storage - Expiry processing, sand blasting, wood shredding, rust, metals and steel, welding, paint, contact with mould, pesticide spraying. Do not use in atmospheres with less than 17% oxygen content volume, nor in explosive atmospheres. Store in storage case in a cool, well ventilated place, avoiding humidity, dirt and dust. Shelf life of the filters is indicated on them and is valid for sealed wrappers. The expiry date is...
Open the catalog to page 2
All MEDOP catalogs and technical brochures

Compare up to 10 products