Catalogs

>

PIRATE
Catalog excerpts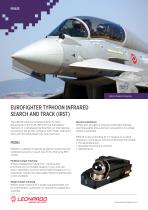 Radar & Advanced Targeting EUROFIGHTER TYPHOON INFRARED SEARCH AND TRACK (IRST) The PIRATE (Passive InfraRed Airborne Track Equipment) is the FLIR /IRST for the Eurofighter Typhoon. It is developed by Eurofirst, an international consortium led by the company, with Thales Optronics (UK) and Tecnobit (Spain) as major partners. MODES PIRATE is capable of operating against several heavily cluttered scenarios in each one of the following IRST modes. Slaved acquisition Where line-of-sight is slaved to externally defined pointing angles and automatic acquisition of a single target is activated. PIRATE is also providing IR TV imaging to cockpit displays in accordance with the following FLIR modes: ▪▪ Flying/landing aid ▪▪ Steerable IR picture on helmet ▪▪ Identification. Multiple target tracking Where engagement (detection, tracking and prioritisation) of multiple targets in A/A, look up/ down operations over the whole field of regard or in a selectable volume are executable. Passive ranging data is also available. Single target tracking Where angle tracking of a single acquired target can be commanded. Automatic re-acquisition capability is available.
Open the catalog to page 1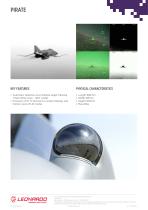 PHYSICAL CHARACTERISTICS ▪▪ Automatic detection and multiple target tracking (Track While Scan – IRST mode) ▪▪ Provision of IR TV picture for cockpit displays and helmet visors (FLIR mode). ▪▪ Length 680mm ▪▪ Width 591mm ▪▪ Height 300mm ▪▪ Mass 8Kg. For more information please email infomarketing@leonardocompany.com Leonardo S.p.a. Viale Europa snc - 20014 Nerviano (MI) - Italy - Tel: +39 0331 587330 This publication is issued to provide outline information only and is supplied without liability for errors or omissions. No part of it may be reproduced or used unless authorised in writing....
Open the catalog to page 2
All Leonardo – Finmeccanica catalogs and technical brochures

Compare up to 10 products