Catalogs

>

Wind Tunnel and Flight Test Pressure Transducers
Catalog excerpts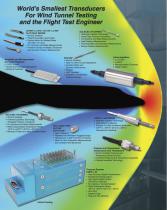 LO-062 / LL-072 /LQ-125 / LL-250 FLAT PACK SERIES • World's Smallest • Patented Leadless Technology • Surface Mount for BtadesA/anes with High-G" Level • For Dynamic and Static Measurements • Pressure Survey on Blades. Structures and Acoustic Pressure Measurement XCUXCEL-072 SERIES • Patented Leadless Technology • Probe Type Pressure Transducer • For Dynamic and Static Measurements • Inlet Pressure Measurement • Front and Back of Compressor Measurement • Burner Pressure Measurement Amplified and Microprocessor Corrected Flatpacks • 5 VDC Output • Nozzle and Fuselage Applications • Moisture...
Open the catalog to page 2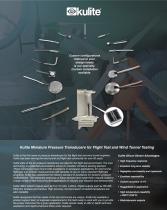 Kulite Miniature Pressure Transducers for Flight Test and Wind Tunnel Testing Kulite Silicon Sensor Advantages: • High frequency response • Excellent long term stability • Negligible non-linearity and hysteresis • Excellent repeatability • Custom accuracy <0.1% • Ruggedized to application • High temperature capability +1000°F (538°C) • Static/dynamic outputs Kulite is the first name in pressure transducers for the flight test and wind tunnel engineer. Kulite has been serving the wind tunnel and flight test community for over 50 years. Kulite state of the art pressure transducers are ideal...
Open the catalog to page 3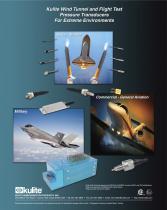 Commercial - General Aviation KULITE SEMICONDUCTOR PRODUCTS, INC. One Willow Tree Road • Leona. New Jersey 07605 USA • Tel: 201 461-0900 • Fax: 201 461-0990 • Email: info-kulite®kulite.com • http://www.kulile.com Coni.nuous development and ret.nomeot oof our products may result In speohcabon changes vnthout notice. Photography Courtesy Lockheed Martin. Cessna
Open the catalog to page 4
All KULITE SEMICONDUCTOR PRODUCTS catalogs and technical brochures

Compare up to 10 products