Catalogs

>

iniBuilds 3D Services
Catalog excerpts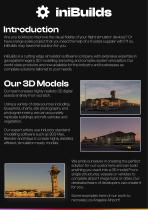 Introduction Are you looking to improve the visual fidelity of your flight simulator devices? Or have a large scale project that you need the help of a trusted supplier with? If so, iniBuilds may have the solution for you. iniBuilds is a cutting edge simulation software company with extensive expertise in geospatial imagery, 3D modelling, texturing, and complex system simulation. Our world class products are now available for the industry and businesses as complete solutions tailored to your needs. Our 3D Models Our team creates highly realistic 3D digital assets entirely from scratch. Using a variety of data sources including, blueprints, charts, site photography and photogrammetry, we can accurately replicate buildings, aircraft, vehicles and vegetation. Our expert artists use industry standard modelling software such as 3DS Max, Blender and Maya to create highly detailed, efficient, simulation-ready models. We pride ourselves in creating the perfect solution for our customers and can build anything you want into a 3D model. From single structures, vessels or vehicles to complete airport mega hubs or cities. Our dedicated team of developers can create it for you. Some examples here of our work to recreate Los Angeles Airport!
Open the catalog to page 1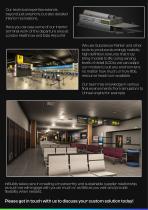 Our technical expertise extends beyond just exteriors, but also detailed interior recreations. Here you can see some of our interior terminal work of the departure area at London Heathrow and Ibiza Airports! We use Substance Painter and other tools to produce stunningly realistic, high definition, textures that truly bring models to life. Using varying levels of detail (LODs), we can adapt our models to suit any environment, no matter how much, or how little, resource headroom available. Our team has knowledge in various final environments from simulators to Unreal engine for example....
Open the catalog to page 2
Compare up to 10 products