Catalogs

>

HR1065
Catalog excerpts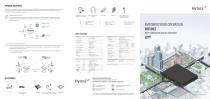 GENERAL SOLUTIONS Hytera offers a wide range of solutions to enrich functionality for the HR1065 series repeater. A gateway for dispatching and phone systems and a back to back solution for cross-band communication. Additionally the open API of HR1065 can also be provided for third party development to realise customisation requirements. Flexible Interconnection The HR1065 series repeater is designed as an intelligent communication platform. It is flexible in its ability to connect with a variety of systems to provide seamless communication. The repeater can work as a gateway to connect the radio to VoIP phone, and dispatcher. Wireless Link Communication With the help of Hytera mobile radio HM785 it is possible to establish wireless connections between two systems when there is no IP link and IP Multi-site connect is not possible. Voice, data and signalling are transmitted over the air via the mobile radio connected by cable to the repeater. It is recommended to deploy directional antennas for the mobile radios and omni-directional antennas for the repeaters to ensure reliable communication. 5.8kg Hytera Communications Europe 939 Yeovil Road, Slough, Berkshire, SL1 4NH info@hytera-europe.com | www.hytera-europe.com www.facebook.com/ HyteraEurope www.instagram.com/ Hytera.Europe Hytera reserves the right to modify the product design and the specifications. In case of a printing error, Hytera does not accept any liability. All specifications are subject to change without notice.
Open the catalog to page 1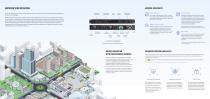 EMPOWER YOUR OPERATION GENERAL HIGHLIGHTS In order to meet the evolving needs and bring greater value to customers, Hytera continuously evolves and upgrades its products and technologies. Air inlet in front of the power supply Status Indicator Economical Structure HR1065 improves its functionality and performance while simplifying its network structure and maintenance methods. It has a compact 1U height design, saving installation space, easy for mobile mounting in limited vehicle space. A built-in power adapter supports a 220V AC power supply, providing low deployment cost and an automatic...
Open the catalog to page 2
All Hytera Communications UK catalogs and technical brochures
Compare up to 10 products