Catalogs

>

Body Worn Camera VM780
Catalog excerpts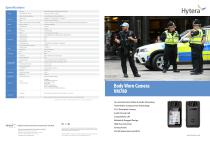 Specifications Memory General Weight (including battery) Camera Diagonal 116°, horizontal 101°, vertical 57° Glass lens, scratch-resistant Battery Life (continuous video shooting) Battery ≥9 hours (continuous video shooting with 720P@30FPS, day time, normal operation) 2500mAh/3500mAh Charging Time Size Display Battery Capacity TFT-LCD color touch screen Video Format Video Encoding Image Format Image Resolution Audio Format Speaker Power Dual microphones Drop Resistance Environmental Specifications Micro USB port, 4-pin contact port Ingress Protection 2 m (with belt clip, 6 times in different faces) Contact discharge: 6 kV; air discharge: 12 kV Operating Temperature Storage Temperature IR Lamp Night Vision Night Vision Range Satellite Positioning Europe: GSM: 850/900/1800/1900 TD-SCDMA: B34/B39 CDMA: BC0 WCDMA: B1/B3/B5/B8 TDD-LTE: B38/B39/B40/B41 FDD-LTE: B1/B3/B5/B7/B8/B20/B26/B28a USB cable, power adapter, belt clip, battery, user manual Multi-unit charger (with data collection function), earpiece, carrying belt, strap Body Worn Camera VM780 All specifications are subject to change without notice due to continuous development. On-site Real-time Video & Audio Streaming H.264 Video Compression Technology 216° Rotatable Camera Audio Group Call Long Battery Life Reliable & Rugged Design High Security Data Strong Audio Hytera Communications Corporation Limited Address: Hytera Communications (UK) Co. Ltd. Hytera House, 939 Yeovil Road, Slough, Berkshire. SL1 4NH, UK. Tel: +44 (0) 1753 826 120 Fax: +44 (0) 1753 826 121 www.hytera.co.uk info@hytera.co.uk Hytera Communications Corp., Ltd. 9 Hytera Communications Corp., Ltd.
Open the catalog to page 1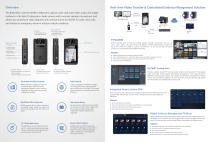 Real-time Video Transfer & Centralised Evidence Mangement Solution The Body Worn Camera VM780 is tailored to capture, store, and share video, audio, and image evidence in the field. It integrates a body camera with a remote speaker microphone, and allows you to perform video dispatch and command over 3G/4G/Wi-Fi, make voice calls, and initiate an emergency alarm in mission critical conditions. HD Video • 216° Rotatable Camera 1080P High-definition 3G/4G/Wi-Fi Live Video/Audio P-PoC6000/ Hytalk IP Network Digital Evidence Management Bluetooth Audio Body Worn Camera Charging Micro USB Port •...
Open the catalog to page 2
All Hytera Communications UK catalogs and technical brochures
Compare up to 10 products