Catalogs

>

SIGNET™ Series Helipad Flood Light
Catalog excerpts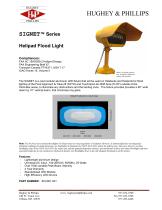 HUGHEY & PHILLIPS SIGNET™ Series Helipad Flood Light Compliances: FAA AC 150/5390-2 Heliport Design FAA Engineering Brief 67 Transport Canada TP14371, AGA 7.17 ICAO Annex 14, Volume II *Base is for display purpose only. Frangible coupling and conduit sold separately. The SIGNET is a cast modular aluminum LED fixture that will be used on Helidecks and Heliports for flood lighting of the Final Approach & Take-off (FATO) and Touchdown & Liftoff Area (TLOF) outside of the Perimeter areas, to illuminate any obstructions and the landing zone. The fixture provides provides a 80° wide beam by 10° vertical beam, that minimizes any glare. Note: The FAA has not evaluated floodlights for effectiveness in visual acquisition of a heliport. However, if ambient light does not adequately illuminate markings for night operations, use floodlights to illuminate the TLOF, the FATO, and/or the parking area. Take care, however, to place floodlights clear of the TLOF, the FATO, the safety area, and the approach/departure surfaces, and transitional surfaces and ensure floodlights and their associated hardware do not constitute an obstruction hazard. Aim floodlights down to provide adequate illumination on the surface. Features: - Lightweight aluminum design - Universal AC Input: 100-265VAC 50/60Hz, 25 Watts - Over 7000 candela Peak Beam Intensity - 2 Year Warranty - Standardized LED Module - High Efficiency LED Drivers PART NUMBER: 80-0001-001 Hughey & Phillips 240 W. Twain Ave. Urbana, OH 43078
Open the catalog to page 1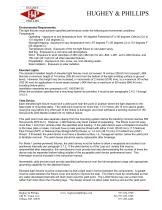 HUGHEY & PHILLIPS Environmental Requirements. The light fixtures must achieve specified performance under the following environmental conditions: Temperature. Operating: exposure to any temperature from -40 degrees Fahrenheit (F) (-40 degrees Celsius (C)) to 131 degrees F (55 degrees C). Storage/shipping: exposure to any temperature from -67 degrees F (-55 degrees C) to 131 degrees F (55 degrees C). Temperature shock. Exposure of the hot light fixture to cold water spray. Salt fog. Exposure to a corrosive salt atmosphere. Wind. Exposure to wind velocities of 300 mph (482 kph) for all L-804,...
Open the catalog to page 2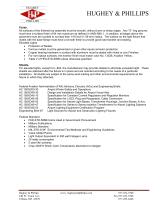 HUGHEY & PHILLIPS Finish. All surfaces of the finished top assembly must be smooth, without burrs or sharp edges. Any "O" ring grooves must have a surface finish of 64 rms maximum as defined in ANSI B46.1. In addition, all edges above the pavement must be rounded to not less than 1/16-inch (1.59 mm) radius. The surface on the light fixture that mates with the base flange must have a smooth finish to provide good load transfer and sealing. Elevated Lights. • Protection of Metals. • Ferrous metals must be galvanized or given other equal corrosion protection. • Copper bearing hardware in...
Open the catalog to page 3
All Hughey and Phillips catalogs and technical brochures

Archived catalogs
Compare up to 10 products