Catalogs

>

L-893 LED
Catalog excerpts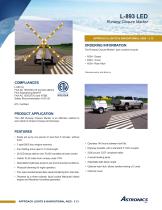 L-893 LEDRunway Closure MarkerAPPROACH LIGHTS & NAVIGATIONAL AIDS - 3.13 ORDERING INFORMATION The Runway Closure Marker* part numbers include: • RCM - Diesel • RCM - Cover • RCM - Rear Hitch *Manufactured by Hali-Brite Inc. COMPLIANCES L-893 (L) FAA AC 150/5345-55 (current edition) FAA Engineering Brief 67 FAA AC 150/5370-2 and NTSB Safety Recommendation A-03-05 ETL Certified PRODUCT APPLICATION The LED Runway Closure Marker is an effective method to warn pilots of closed runways and taxiways. FEATURES • Easily set up by one person in less than 5 minutes, without tools. • 3 year/3000 hour engine warranty. • Four folding arms open to 14 foot length. • 20 LED lamps deliver over 70,000 candelas at beam center. • Visible 10-25 miles from runway under VFR. • Selectable brightness levels to suit environmental conditions. • Photocell dimming for night operation. • Four rear-mounted lamps allow visual monitoring from rear side. • Powered by a three-cylinder, liquid cooled Mitsubishi diesel engine and Marathon brushless generator. • Operates 140 hours between fuel fills. • Highway towable, with a standard 2" hitch coupler. • 2200 pound, DOT compliant trailer. • 4 swivel leveling jacks. • Adjustable light beam angle. • Optional rear hitch, allows tandem towing of 2 units. • Optional cover.
Open the catalog to page 1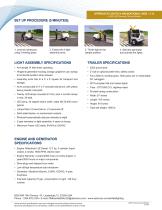 APPROACH LIGHTS & NAVIGATIONAL AIDS - 3.13 L-893 LED Runway Closure Marker 1. Level as necessary using 3 leveling jacks. 2. Extend the 4 light assembly arms. 3. Tilt the light to the upright position. 4. Start the generator and activate the lights. LIGHT ASSEMBLY SPECIFICATIONS TRAILER SPECIFICATIONS • Arm length 14 feet when operating. • Hinged to generator housing, swings upright for use, swings to horizontal position when stowed. • 2" ball or optional pintle hitch, safety chains • Assembly arms fold to a 5' x 5' square for transport and storage. • Four 2000 lb. leveling jacks. Side jacks...
Open the catalog to page 2
All Hughey and Phillips catalogs and technical brochures

Archived catalogs
Compare up to 10 products