Catalogs

>

T53 TURBOSHAFT ENGINE
Catalog excerpts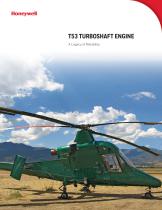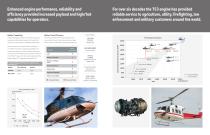 Enhanced engine performance, reliability and efficiency provided increased payload and high/hot capabilities for operators. Better Capability Better Fuel Efficiency Today, the legacy of the T53 remains in tact as The T53 provides 4-6% lower specific fuel a properly maintained engine still meets the consumption over the entire operating range industry's most rigorous reliability standards. which reduces helicopter operating expenses. FLEET STATUS SFC, lbm/hp/hr With continuous improvements resulting in a 0.75 17-29% increase in payload capability, the engine also supports more modern...
Open the catalog to page 2
Contact Service Facility for Authorized Geographical Area of Support T53 Support Facilities AUTHORIZED DISTRIBUTORS M International 1301 Dolley Madison Boulevard, McLean, VA 22101-3912, USA AUTHORIZED COMPONENT REPAIR CENTERS Airborne Engines 7762 Progress Way Delta, B.C. Canada V4G 1A4 Contact: Leslie McConn Phone: (703) 448-4400 x 113 Fax: (703) 448-4409 E-mail: Imcconn@mintex.net Contact: Richard Latham Phone: (604) 244-1668 Fax: (604) 244-1787 E-mail: rlatham@airborneengines.com Product Lines: T53 engine components Territories/Regions: Worldwide except Japan Air Technology Engines 2884...
Open the catalog to page 3
All HONEYWELL catalogs and technical brochures

Compare up to 10 products