Catalogs

>

HE Airboxer®
Catalog excerpts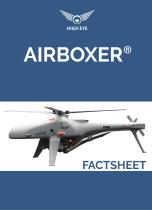 AIRBOXER® SPECIFICATIONS Dimensions Environmental Resistance Max. Precipitation Icing Conditions Max. Take-Off Weight Basic Empty Weight Max. Payload Weight Max. Indicated Airspeed (IAS) Electrical System Electromagnetic Interference Back-Up Battery Main & Tail Rotor Type Engine Type Engine Size Engine Cooling Induction Type Approx. 1661 X 539 X 600 mm IP 67, -10°C To +45°C Medium Not Allowed 30.00 Kg 20.50 Kg 7.0 Kg 70 Kts - 129 Km/h 3 Phase Alternator 28V @ 700W All Avionics/Connectors Shielded LION + BMS Fully Articulated & Friction Damping 2-Stroke Twin-Cylinder 80 CC Active Air Cooling...
Open the catalog to page 3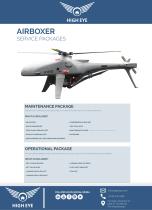 SERVICE PACKAGES MAINTENANCE PACKAGE The 200 hours maintenance package contains all materials that you need for the 200h maintenance. WHAT IS INCLUDED? - AIR FILTERS - FUEL PUMP OVERHAUL SET - MAINTENANCE FLUIDS (GEAR BOX OIL, SPRAYS, LOCTITE, BRAKE CLEANER ETC.) - NEW POWERPLANT, INCLUDING RUN IN ENGINE OPERATIONAL PACKAGE The operational package contains materials that you may need in case a minor incident happens during operations. WHAT IS INCLUDED? - SET OF MAIN BLADES - LANDING GEAR LEG REAR - FUEL LINE TUBING SET - LANDING GEAR LEG LEFT - LANDING GEAR LEG RIGHT FOLLOW US ON SOCIAL...
Open the catalog to page 4
Compare up to 10 products