Catalogs

>

FEP ME CARGO
Catalog excerpts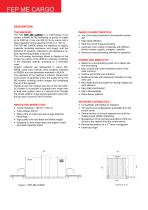 DESCRIPTION THE MACHINE The new FEP ME CARGO is a multi-energy X-ray system suitable for the screening of goods on pallet up to 3000 kg. It has one 200 kV X-ray source and a large inspection tunnel opening of 180 cm x 180 cm. The FEP ME CARGO allows the detection of organic materials (including explosives and drugs), and the detection of weapons, detonators and dangerous objects representing threats to security. The multi energy technology allows to display on the screen the nature of the different materials contained in the inspected objects, according to a chromatic code. Organic...
Open the catalog to page 2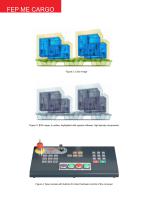 Figure 2: Color image Figure 3: B/W image. In yellow, highlighted with special software, high density components Figure 4: New console with buttons for direct hardware control of the conveyor
Open the catalog to page 3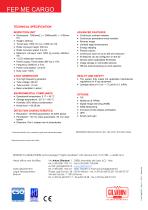 TECHNICAL SPECIFICATION INSPECTION UNIT • Dimensions: 7500mm(L) x 3080mm(W) x 3150mm (H) • Weight: 4300 kg • Tunnel size: 1800 mm (L) x 1800 mm (H) • Roller conveyor height: 330 mm • Roller conveyor speed: 0.2 m/s • Maximum conveyor load: 3000 kg (evenly distributed) • 1 LCD widescreen monitor • Power supply: Three phase 380 Vac ± 10% • Frequency: 50/60 Hz ± 3 Hz • Power consumption: 4,5 kVA • Duty cycle: 100% X-RAY GENERATOR • One high frequency generator • Tube voltage: 200 kV • Tube current: 1,5 mA • Beam orientation: Lateral ENVIRONMENTAL COMPLIANCE • Operational temperature: 0 °C 40...
Open the catalog to page 4
All GILARDONI SPA catalogs and technical brochures
Compare up to 10 products