Catalogs

>

Genie

>

GANPRKIT2PLUS
Catalog excerpts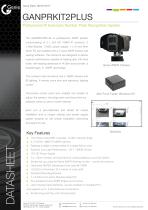 GANPRKIT2PLUS Professional IP Automatic Number Plate Recognition System The GANPRKIT2PLUS is professional ANPR System compromising of 2 x Full HD 1080P IP camera's, 2 x Wall Bracket, 15VDC power supply, 1 x i5 mini form factor PC pre-installed with a 2 Lane ANPR license and viewing software. The Camera's are designed to deliver superior performance capable of reading upto 10m lane width, with reading distances of 14-30m and provides a breakthrough in ANPR technology. Genie ANPR Camera The compact neat enclosure has a 1080P camera and IR lighting, A remote zoom lens and electronic lighting control. The remote control zoom lens enables the installer to adjust the camera including zoom and focus from our software, either on site or via the Internet. Each unit is pre-calibrated and tested for simple installation and a unique cabling and power supply system ensures no risk simple installation minimizing time spent on site. Mini Form Factor Windows PC DATASHEE Key Features ■ 10.0 metre road width coverage, 14-30m reading range ■ 2 x Full HD 1080P IP ANPR Camera ■ Reading multiple number plates in a single field of view ■ Superior Low Light Performance : 1/2.7" CMOS Censor ■ 15V DC Power Supply ■ 7.0 - 22mm remote vari-focal lens for viewing distance up to 30 metres ■ Simple set up using the Genie ANPR Viewing monitor - control all functions ■ Optimised MJPEG streaming of the video @ 1080P ■ 18 LED's to illuminate 10.0 metres of road width ■ Standard Mounting Bracket ■ 1 x i5 Mini Form factor Window based PC ■ Pre-installed 2 Lane ANPR Engine and Licence ■ User Friendly Client Software, can be installed on multiple PC's and support up to 3 simultaneous connections ■ Simple Plug and Play with minimal setup Genie CCTV LTD. CCTV House, www.geniecctv.com +44 (0) 1707 330 541 City Park, Watchmead, Welwyn Garden City . © 2017 Genie CCTV Ltd. All Rights Reserved.
Open the catalog to page 1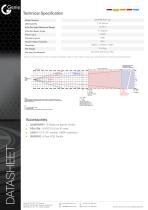 Model Number LED Quantity Infra Red Light Maximum Range Infra Red Beam Angle Power input Protection Level Temper Glass Thickness Dimension Net Weight Housing Construction Technical Specification GANPRKIT2PLUS 3 \IR Lamps 10-35 m 10 degrees 15VDC IP66 4mm 200(L) x 120(W) x 130(H) 3.35 Kgs Extruded Aluminium Alloy Genie CCTV reserves the right to change specifications without notice. Please contact your representative to confirm current specifications. Accessories ■ GANPRIPRY- IP Relay for barrier control ■ PSU1SM- 12VDC PSU for IP relay ■ LM215- 21.5" PC monitor 1080P resolution City...
Open the catalog to page 2
All Genie catalogs and technical brochures
Compare up to 10 products