Catalogs

>

RANR 1090™ Transponder Product Sheet
Catalog excerpts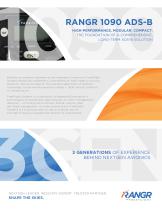 1090 RANGR 1090 ADS-B HIGH-PERFORMANCE. MODULAR. COMPACT. THE FOUNDATION OF A COMPREHENSIVE, LONG-TERM ADS-B SOLUTION Building on systems engineering and integration know-how, FreeFlight Systems effectively implements comprehensive, high-integrity avionics solutions. We are focused on the practical application of NextGen technology to real-world operational needs — OEM, retrofit, platform or infrastructure. FreeFlight Systems is a community of respected innovators in technologies of positioning, state-sensing, air traffic management datalinks — including rule-compliant ADS-B systems, data and flight management. An international brand, FreeFlight Systems is a trusted partner as well as a direct-source provider through an established network of relationships. 3 GENERATIONS OF EXPERIENCE BEHIND NEXTGEN AVIONICS NEXTGEN LEADER. INDUSTRY EXPERT. TRUSTED PARTNER.
Open the catalog to page 1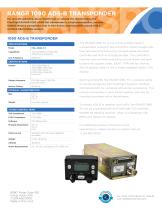 TRANSPO RANGR 1090 ADS-B TRANSPONDER For aircraft operating above 18,000 feet or outside the United States, the FreeFlight RANGR 1090 ADSB Out transponder is a high-performance, modular 1090ES Mode S transponder that is ADS-B Out compliant when paired with a certified SBAS/GNSS solution. The RANGR 1090-TX is one of the smallest Mode S SPECIFICATIONS Model Capabilities TSO Certified for Mode S/ES ADS-B Out compliance Link Frequency transponders suited for GA aircraft;the system weighs less than one pound including the compact panel-mounted controller and built-in altitude encoder. The...
Open the catalog to page 2
All FreeFlight Systems catalogs and technical brochures

Compare up to 10 products