Catalogs

>

MC 3603 S
Catalog excerpts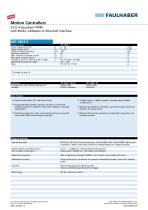 Motion Controllers V3.0, 4-Quadrant PWM with RS232, CANopen or EtherCAT interface MC 3603 S Values at 22°C Power supply electronic Power supply motor PWM switching frequency Efficiency electronic Max. continuous output current Max. peak output current 1) Standby current for electronic (@ UP =24V) Operating temperature range Mass Interfaces Configuration from Motion Manager 6.7 Fieldbus Basic features ■ Control of brushless, DC- and linear motors ■ 3 digital inputs, 2 digital outputs, 2 analog inputs, flexible ■ Supported sensor systems: absolute encoders, incremental encoders (optical or magnetic), Hall sensors (digital or analog), tachometers ■ Positioning resolution when using analog Hall sensors as position encoder: 4096 increments per revolution ■ Setpoint specification via fieldbus, quadrature signal, pulse and direction or analog inputs ■ Optional stand-alone operation via application programs in all interface versions Range of functions Operating modes PP, PV, PT, CSP, CSV, CST and homing acc. to IEC 61800-7-201 or IEC 61800-7-301 as well as position-, speed- and torque control via analog setpoint or voltage controller Speed range for brushless motors with number of pole pairs 1 0 min-1 … 30 000 min-1 with sinusoidal commutation (optionally to 60 000 min-1 with block commutation) Application programs Max. 8 application programs (BASIC), one of which is an autostart function Additional functions Touch-probe input, connection of a second incremental encoder, control of a holding brake LEDs for displaying the operating state Trace as recorder (scope function) or logger Motor types For notes on technical data and lifetime performance refer to "Technical Information". Edition 2023 Mar. 15 © DR. FRITZ FAULHABER GMBH & CO. KG Specifications subject to change without notice.
Open the catalog to page 1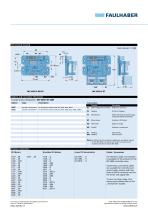 Dimensional drawing Scale reduced Options and connection information Example product designation: MC 3603 S ET 6889 Option Connection Name Motor and electronic power supply, analog and digital input/output Motor phases Hall sensors Encoder combination Encoder combination Note: For details on the connection assignment, see device manual for the MC 3603. For details on Encoder connections and functions see device manual MC 3603. Product combination DC-Motors 1319 ... SR 1331 ... SR 1336 ... CXR 1516 ... SR 1524 ... SR 1717 ... SR 1724 ... SR 1727 ... CXR 1741 ... CXR 2224 ... SR 2232 ... SR...
Open the catalog to page 2
All FAULHABER Drive Systems catalogs and technical brochures

Compare up to 10 products