Catalogs

>

Strategy Air
Catalog excerpts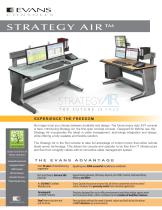 No longer must you choose between durability and design. The future heavy duty 24/7 console is here. Introducing Strategy Air, the first open concept console. Designed for lifetime use, the Strategy Air incorporates the latest in cable management, technology integration and design, while offering a fully scalable and flexible solution. The Strategy Air is the first console to take full advantage of control rooms that utilize remote blade server technology. This allows the console and operator to be free from IT infrastructure and free from unsightly cables with its innovative cable management system. Sustainable Environment Greenguard Certified CARB Compliant LEED Contributions Sustainable Processes THE EVANS ADVANTAGE Over 30 years of manufacturing Equalling over 9000 successful installations worldwide experience Rich and Diverse Fortune 500 Government Agencies, Oil & Gas, Airports, Air Traffic Control, Chemical Plants, client list Military and More Product Manufacturing Evans Quality Assurance ensures that all clients consistently receive control center solutions that precisely match their intended application Greenguard Certified Products Steel frame structure and sub structure Products designed for use in office environments and other indoor spaces meet strict emissions limits, which contribute to the creation of healthier interiors. Free standing without the need of panels, robust and built to last the abuse of 24/7 intensive use environments.
Open the catalog to page 1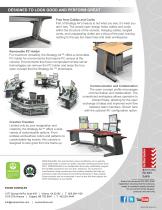 Removable PC Holder For maximum versatility, the Strategy Air™ offers a removable PC holder for environments that require PC access at the console. Environments that have incorporated remote server technologies can remove the PC holder and enjoy the true open concept that the Strategy Air ™ showcases. Free from Cables and Cords Part of Strategy Air's beauty is not what you see; it's what you don't see. The simple open design hides cables and cords within the structure of the console. Hanging cables, tangled cords, and unappealing clutter are a thing of the past, leaving nothing to the eye...
Open the catalog to page 2
All EVANS AIRPORT SOLUTIONS | NKI catalogs and technical brochures
Compare up to 10 products