Catalogs

>

INVITE
Catalog excerpts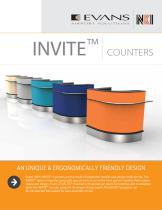 AIRPORT SOLUTIONS AN UNIQUE & ERGONOMICALLY FRIENDLY DESIGN Evans | NKI's INVITE™ counters are the result of ergonomic studies and design engineering. The INVITE™ series is manufactured with special tools to curve the front panels creating their unique shape and design. Evans' STARLITE™ material with aluminium layers for worktop and countertop gives the INVITE™ counter program its unique design touch. The INVITE™ program can be transported flat packed for easy assembly on site.
Open the catalog to page 1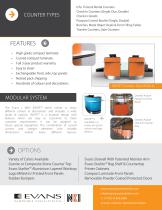 COUNTER TYPES High grade compact laminate Curved compact laminate Full 3 year product warranty Exchangeable front, side, top panels Nested pack shipping Hundreds of colours and decorations Info, Ticket & Rental Counters Check-In Counters (Single, Duo, Double) Check-In Islands Passport Control Booths (Single, Double) Benches, Metal Object Desks & Form Filling Tables Transfer Counters, Gate Counters INVITE™ Counter: Duo Check-In MODULAR SYSTEM The Evans | NKI's INVITE™ series comes in many different colours & decorations and includes a wide range of options. INVITE™ is a modular design with...
Open the catalog to page 2
All EVANS AIRPORT SOLUTIONS | NKI catalogs and technical brochures
Compare up to 10 products