Catalogs

>

IDENTITY
Catalog excerpts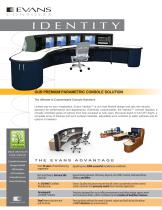 OUR PREMIUM PARAMETRIC CONSOLE SOLUTION The Ultimate in Customizable Console Solutions Limited only by your imagination, Evans' Identity™ is our most flexible design and sets the industry standard for performance and appearance. Extremely customizable, the Identity™ console displays a virtually unlimited series of options from fully enclosed to fully open, flat panel depth to full CRT depth, a complete array of finishes and work surface materials, adjustable work surfaces to static surfaces and all options in between. EVANS ADVANTAGE Greenguard Certified CARB Compliant LEED Contributions Sustainable Processes Product Manufacturing Over 30 years of manufacturing experience Equalling over 9000 successful installations worldwide Rich and Diverse Fortune 500 client list Government Agencies, Oil & Gas, Airports, Air Traffic Control, Chemical Plants, Military and More Evans's Quality Assurance ensures that all clients consistently receive control center solutions that precisely match their intended application Greenguard Certified Products Steel frame structure and sub structure Products designed for use in office environments and other indoor spaces meet strict emissions limits, which contribute to the creation of healthier interiors. Free standing without the need of panels, robust and built to last the abuse of 24/7 intensive use environments.
Open the catalog to page 1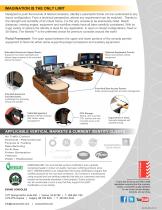 Designed to push the bounds of tailored solutions, Identity's parametric frame can be customized to any layout configuration. From a technical perspective, almost any requirement can be matched. Thanks to the strength and durability of its robust frame, it is the only console to be seismically rated. Reach distances, viewing angles, equipment and workflow needs have all been carefully considered. With its huge variety of options the Identity is ideal for any application. In open or closed configurations, fixed or Sit-Stand, The Identity™ is the preferred choice for premium consoles around...
Open the catalog to page 2
All EVANS AIRPORT SOLUTIONS | NKI catalogs and technical brochures
Compare up to 10 products