Catalogs

>

CONTOUR
Catalog excerpts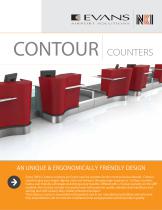 AN UNIQUE & ERGONOMICALLY FRIENDLY DESIGN Evans | NKI's Contour counters are Evans' top line counters for the most exclusive airports. Contour counters give your airport dignity, style and enhance the passenger experience. Contour counters have a user-friendly soft shape welcoming every traveller. Offered with a 10 year warranty on the GRP material, the Contour counter is manufactured with premium quality stainless steel hand bars and skirting and with a heavy duty rubber protection bumper. The Contour counter is assembled with greatest care in our manufacturing facilities and will come fully assembled on site to minimize installation time and guarantee optimal product quality.
Open the catalog to page 1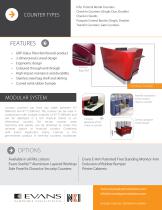 COUNTER TYPES GRP (Glass Fiber Reinforced) product Ergonomic design Coloured through and through High impact resistance and durability Stainless steel bag shelf and skirting Curved solid rubber bumper Info, Ticket & Rental Counters Check-In Counters (Single, Duo, Double) Check-In Islands Passport Control Booths (Single, Double) Transfer Counters, Gate Counters Contour Counter MODULAR SYSTEM Contour counters can have any width between 35" combination with straight modules of 47" (1200mm) and can be deployed in a full check-in island, or an information counter. For secure counter areas...
Open the catalog to page 2
All EVANS AIRPORT SOLUTIONS | NKI catalogs and technical brochures
Compare up to 10 products