Catalogs

>

ALARIS EN ROUTE / APPROACH
Catalog excerpts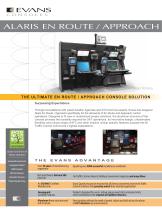 THE ULTIMATE EN ROUTE / APPROACH CONSOLE SOLUTION Through consultations with select Aviation Agencies and ATC front line experts, Evans has designed Alaris En Route / Approach specifically for the demands of En Route and Approach control operations. Designed to fit new or modernized project solutions, the aluminum structure of the console provides the durability required for 24/7 operations. Its innovative design, unbelievable flexibility and unique range of ATC and other mission critical specific features surpass the Air Traffic Control community's highest expectations. Sustainable Environment Greenguard Certified CARB Compliant LEED Contributions Sustainable Processes THE EVANS ADVANTAGE Over 30 years of manufacturing Equalling over 9000 successful installations worldwide experience Rich and Diverse Fortune 500 client list AirTraffic Control, Airports, Military, Government Agencies and many More Product Manufacturing An ISO 9001 Certified Evans Quality Assurance ensures that all clients consistently receive AirTraffic Manufacturer Control Solutions that precisely match their intended application Greenguard Products designed for use in indoor spaces meet strict emissions limits, Certified Products which contribute to the creation of healthier interiors. Aluminum frame structure and sub structure Free standing without the need of panels, robust and built to last the abuse of 24/7 intensive use environments.
Open the catalog to page 1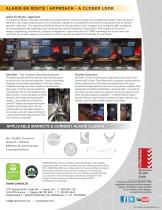 ALARIS EN ROUTE / APPROACH - A CLOSER LOOK Alaris En Route / Approach The Alans En Route / Approach Consoles are engineered for maximum design and operational flexibility. Each console is tailored to the unique requirements of our customers, taking into consideration every piece of equipment and its desired operator interaction. The operational flexibility allows for the equipment to be changed or re-configured after installation, thus increasing the life expectancy and reducing total cost of ownership of the product. With experts in the area of design, engineering, architecture, program...
Open the catalog to page 2
All EVANS AIRPORT SOLUTIONS | NKI catalogs and technical brochures
Compare up to 10 products