Catalogs

>

Embross

>

Sales-Sheet-V1-1-0
Catalog excerpts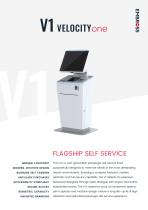 V1 FLAGSHIP SELF SERVICE MINIMAL FOOTPRINT MODERN, INTUITIVE DESIGN BAGGAGE SELF TAGGING ANCILLARY PURCHASES The V1 is a next-generation passenger self service kiosk purposefully designed to meet the needs of the most demanding airport environments. Boasting a compact footprint, modern aesthetic and full service capability, the V1 reflects an extensive ACCESSIBILITY COMPLIANT featureset designed through open dialogue with airport and airline SECURE ACCESS stakeholder teams. The V1's extensive array of component options, BIOMETRIC CAPABILITY UNLIMITED BRANDING print capacity and modular design, ensure a long life-cycle of high utilization and optimized passenger self service experience.
Open the catalog to page 1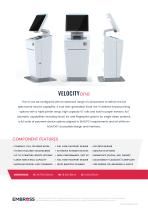 VELOCITYone The V1 can be configured with an extensive range of components to deliver the full spectrumof service capability. A true next-generation kiosk, the V1 delivers broad printing options with a triple printer setup, high capacity 10" rolls and low/no paper sensors, full biometric capabilities including facial, iris and fingerprint options for single token systems, a full suite of payment device options aligned to EMV/PCI requirements and all within an ADA/DOT accessible design and interface.. COMPONENT FEATURES > COMPACT, FULL FEATURED KIOSK > FULL PAGE PASSPORT READER > 19 INCH...
Open the catalog to page 2
All Embross catalogs and technical brochures
Compare up to 10 products