Catalogs

>

UEL - UTILITY LED
Catalog excerpts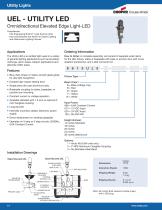 COOPER Crouse-Hinds UEL - UTILITY LED Omnidirectional Elevated Edge Light-LED Compliances: FAA Engineering Brief 67 "Light Sources other than Incandescent and Xenon for Airport Lighting and Obstruction Lighting Fixtures" The Utility LED is an airfield light used in a variety of general lighting applications such as boundary markings, apron areas, heliport applications and alternate traffic areas. Features ■ Blue, Red, Green or Yellow smooth glass globe for day light recognition ■ Durable high impact sealing boot ■ Single piece die-cast aluminum body ■ Breakable coupling for stake, baseplate, or junction box mounting ■ Constant current or voltage operation ■ Available standard with 1.5 inch or optional 2 inch frangible coupling ■ Long life LED ■ Internally mounted, sealed, electronic power supply ■ Direct replacement on existing baseplate ■ Operates on 3-step or 5-step circuits, 50/60Hz, 6.6A Constant Current How to Order: A complete assembly will consist of separate order items for the UEL fixture, stake or baseplate with base or junction box with cover, isolation transformer, and L-823 connector kit. Fixture Type: Beam Color*:- B = Blue (voltage only) R = Red G = Green Y = Yellow W = White Input Power: 066 = 6.6A Constant Current 012 = 12 VDC Input 024 = 24 VDC Input 120 = 95-250 VAC Height (Inches): 14 inches Standard 18 inches 22 inches 24 inches 30 inches (Maximum) Options: 1 = Arctic Kit (6.6A units only) 2 = 2" NPS Aluminum Frangible Coupling 4 = No Stainless Steel Band Installation Drawings GLOBE SUPPORT (INCLUDED) BASE PLATE L-867 BASE BREAKABLE COUPLING OPTIONAL GROUND LUG CONNECTOR KIT 2" CONDUIT ENTRANCE CONNECTOR KIT 30" (762) METAL STAKE ISOLATION TRANSFORMER OPTIONAL GROUND ROD inches Dimensions: (mm) Note: All current 6.6A versions include a lead with L-823 plug.
Open the catalog to page 1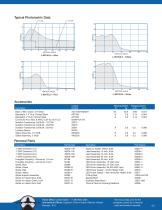 Typical Photometric Data Accessories Description Catalog Number Shipping Weight Shipping Volume lb. kg. cu.ft. cu.m. Base L-867, Class I, 24" Deep Baseplate, 1.5" Hub, Painted Steel Baseplate, 2" Hub, Painted Steel Connector Kit L-823, 8 AWG, 0.32" to 0.43" O.D. Isolation Transformer, 6.6/6.6A - 10/15W Isolation Transformer, 6.6/6.6A - 20/25W Isolation Transformer, 6.6/6.6A - 30/45w Leveling Device Stake Assembly, 1.5" HUB Stake Assembly, 2" HUB Renewal Parts Description Part Number Description Part Number 1" EMT Extension (14") 1" EMT Extension (18") 1" EMT Extension (24") 1" EMT...
Open the catalog to page 2
All EATON CROUSE-HINDS catalogs and technical brochures

Archived catalogs
Compare up to 10 products