Catalogs

>

PRO APF MIRL
Catalog excerpts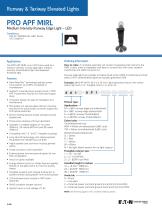 PRO APF MIRL Medium Intensity Runway Edge Light - LED Compliances: FAA AC 150/5345-46: L-861 Series UFC 3-535-01* Applications The PRO APF MIRL is an LED fixture used as a medium intensity runway edge light, medium intensity threshold/end light and displaced threshold light. Features ■ New WaveTrac™ technology reduces power consumption up to 80% compared to incandescent ■ Supports universal power supply found in PRO APF in-pavement fixtures for minimized supply stock ■ Innovative design for ease of installation and maintenance ■ Removable nut secures glass dome to housing, and allows for quick access to power supply and LED optical assembly ■ Built-in leveling bosses accept standard circular bubble level ■ Three-screw leveling with hex head bolts ■ Available in installed heights of 14 inches (350mm), 24 inches (607mm) and 30 inches (759mm) ■ Compatible with 1.5" and 2" frangible couplings ■ Long life LED technology with rated projected life greater than 50,000 hours at 6.6A ■ Highly durable cast aluminum housing painted yellow ■ 5-step constant current operation ■ External power cord and ground option for non-FAA compatibility ■ Arctic kit option available ■ Energy-efficient arctic kit utilizes filament applied directly to the glass dome to minimize energy losses ■ Frangible coupling with integral fluid barrier to prevent ambient precipitation from entering base ■ LED and electronics housed in IP67 rated assembly ■ RoHS compliant (except column) ■ Typical fixture in-rush voltage of 1.5V Ordering Information How to order: A complete assembly will consist of separate order items for the MIRL fixture, stake or baseplate with base or junction box with cover, isolation transformer and L-823 connector kit. Runway edge lights are typically omnidirectional white (-WM) or bidirectional white/ yellow (-WY); threshold/end lights are typically green/red (-GR). Example: 861B-AP1-WY-1-24-0 is a 24 inch high bidirectional fixture with white/ yellow light and a 1.5" frangible column, no arctic kit. Fixture type: Application: M = L-861 runway edge omnidirectional B = L-861 runway edge bidirectional E = L-861E runway threshold/end S = L-861SE runway threshold/end Color/color: Omnidirectional only: WM = White omnidirectional (L-861 only) YM = Yellow omnidirectional (L-861 only) Bidirectional/unidirectional: G = Green R = Red Y = Yellow W = White N = No light (blank section for no light output) Frangible column size: 1 = 1.5"-12 UNF 2 = 2"-11.5 NPSM 3 = 2" BSPP (non-FAA) Installed height in inches: 14 = 13.781" (350mm) 24 = 23.875" (607mm) 30 = 29.875" (759mm) Arctic kit: 0 = None 1 = Included 2 = External power cord and ground (no arctic kit) (non-FAA) 3 = External power cord and ground (with arctic kit) (non-FAA) NOTE: See following page for UFC compliant ordering options.
Open the catalog to page 1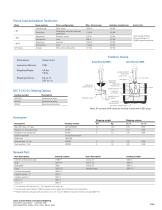 Beam pattern Color configuration Max. fixture load Isolation transformer Arctic kits Omnidirectional White, yellow White/yellow, white/red, yellow/red, green/yellow Arctic kits add 16 VA per fixture and change to a 30/45W isolation transformer UFC fixtures All types White, yellow, white/yellow 13.19 VA 10/15W Installation Drawing Stake Mounted MIRL Base Mounted MIRL OPTIONAL GROUND ROD Note: All current 6.6A versions include a lead with L-823 plug. Catalog number Description Shipping weight Shipping volume Renewal Parts Item description Catalog...
Open the catalog to page 2
All EATON CROUSE-HINDS catalogs and technical brochures

Archived catalogs
Compare up to 10 products