Catalogs

>

IRGL-LED, L852G Inset Runway Guard Light-LED
Catalog excerpts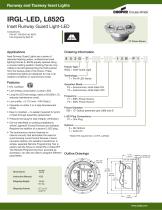 Runway and Taxiway Inset Lights IRGL-LED, L852G Inset Runway Guard Light-LED Compliances: FAA AC 150/5345-46: 852G FAA Engineering Brief 67 12˝ Fixture Shown Ordering Information Inset Runway Guard Lights are a series of alternate-flashing yellow, unidirectional inset lighting fixtures (L-852G) equally spaced along a runway holding position marking that are only visible to aircraft approaching the hold position from the taxiway side of the fixture. These unidirectional lights are designed for use in all weather conditions in autonomous mode. Features  ETL Certified  Low energy consumption Luxeon LEDs  Long life LED technology, rated at 50,000h L70, reduces maintenance costs.  Low profile, <.5˝ (13 mm) – FAA Style 2  Operates on either 3 or 5 step ferroresonant CCRs  Easy to maintain – no sealant required for prism or feed-through assembly replacement  Pressure test plug for seal integrity verification  Can be retrofitted on existing installations where Logitrac® Control Devices are available. Requires the addition of a second L-823 plug.  The autonomous version features an internal circuitry that eliminates the need for synchronizing Local Control Devices. Fixture connects directly into isolation transformer. A simple, separate Remote Programming Tool is used to set the fixture to Initial ON or Initial OFF. The Remote Programming Tool, provided as accessory, can also be used to program different parameters. Fixture Type: 852G = Inset Guard Light Technology: 7 = Pro III LED Series Operation Mode: YO = Autonomous, Initial Flash ON YF = Autonomous, Initial Flash OFF Frequency: F1 = 60Hz Power Source F2 = 50Hz Power Source* Fixture Diameter: 12B = 12˝ Optical assembly type L868 size B L-823 Plug Connections: P1 = One Plug Options: 0 = No Options 1 = Arctic Kit * Meets FAA requirement, not ETL certified Outline Drawings Instruction Manual: Shipping Weight: Shipping Volume:
Open the catalog to page 1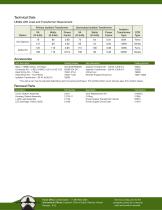 Technical Data L852G LED Load and Transformer Requirement Item Description Catalog Number Item Description Catalog Number Base: L-868B, Class I, 24" Deep* AC24242H200303 Isolation Transformer - 100 W, 6.6/6.6 A 33004 Heat Shrink Kit - 1 Piece 10047-2154 Lifting Tool 19999 Heat Shrink Kit - Two Pieces 10047-1425 Remote Programming Tool 10047-3066 * Two-piece can may be required depending upon the paving technique. Thin profile bottom cover ensures easy fit in shallow bases. Description Part Number Description Part Number Cover, Bottom Assembly...
Open the catalog to page 2
All EATON CROUSE-HINDS catalogs and technical brochures

Archived catalogs
Compare up to 10 products