Catalogs

>

RECEIVE REAL-TIME SEVERE WEATHER ALERTS ANYTIME, ANYWHERE
Catalog excerpts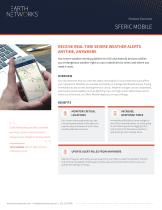 Product Overview SFERIC MOBILE RECEIVE REAL-TIME SEVERE WEATHER ALERTS ANYTIME, ANYWHERE Our severe weather alerting platform for iOS and Android devices notifies you of dangerous weather right on your mobile device when and where you need it most. OVERVIEW Your job demands that you have the latest information for any threat that could affect your operations. Whether you oversee one facility or manage distributed venues, having immediate access to new developments is critical. Weather changes can be unexpected, particularly severe weather such as lightning, hail, and high winds. When these events come out of the blue, our Sferic Mobile keeps you on top of things. BENEFITS MONITOR CRITICAL LOCATIONS Earth Networks provides a mobile warning system since we aren't Our custom alerts engine lets you see a visual representation of the alert on a map for easy orientation of which sites could be affected and when. INCREASE RESPONSE TIMES Immediate notifications come straight to your iOS or Android device. No more going in and checking email or logging into a tool to find out if hazardous weather is approaching. You'll already know. always at our desks to receive alerts. Jerry Graziose, District Safety Director of Broward county UPDATE ALERT RULES FROM ANYWHERE Need to change an alert while you are away from your office or desk? No problem. The iOS and Android compatible mobile app provides easy access to the alerts portal so you can update the settings on the go.
Open the catalog to page 1
SFERIC MOBILE KEY ADVANTAGES • Push notifications on iOS and Android devices • Contextual alert mapping • Configure, update and manage alert rules on-the-go CREATE AND MANAGE CUSTOM SEVERE WEATHER ALERTS FOR YOUR LOCATION Sferic Mobile provides emergency managers, airport crews, stadium managers, event staff, facility managers and operation centers with on-the-go access to Earth Networks' proprietary network of more than 12,000 professional-grade hyper-local weather stations and long-range world-wide lightning detection capabilities. CONNECT WITH US For more than 20 years Earth Networks has...
Open the catalog to page 2
All EARTH NETWORKS catalogs and technical brochures

Compare up to 10 products