Catalogs

>

PublicSafety_EmergencyManagement_EarthNetworks
Catalog excerpts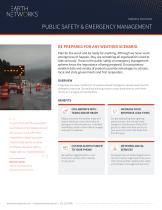 Industry Overview BE PREPARED FOR ANY WEATHER SCENARIO Plan for the worst and be ready for anything. Although we never want emergencies to happen, they are something all organizations need to take seriously. Those in the public safety or emergency management spheres know the importance of being prepared. Our proprietary weather data and variety of products provide advantages to schools, local and state governments and first responders. OVERVIEW Integrated one-stop interface for all weather-based intelligence. Greater lead times for emergency response. Streamlined alerting process across departments, even when off-site or managing remote facilities. BENEFITS It seems that with the expanded touchdowns of tornadoes around the country, it is all the more important to detect and warn of potentially severe weather conditions. We were right on target with our implementation. TEAMS AND BE READY Display and share live weather maps and data to distribute critical information to colleagues in other locations or in the field. Seamlessly publish custom-defined images and layers to websites. INCREASE YOUR RESPONSE LEAD TIMES Our groundbreaking total lightning network powers the industry's best Dangerous Thunderstorm Alerts. We'll get you to safety and allow you to put your plans into action 50% faster than the other guys. Dorris A. Carter, Deputy Superintendent, Broward County Schools CUSTOM ALERTS PUSHED TO YOUR PHONE Set weather-triggered alerts so your entire team receives them instantly on any device. METEOROLOGICAL SERVICES Our expert team of meteorologists are on call 24/7 to assist organizations like yours with critical weather-related public safety and emergency management decisions.
Open the catalog to page 1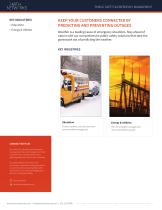 PUBLIC SAFETY & EMERGENCY MANAGEMENT EARTH NETWORKS'KEY industries KEEP YOUR CUSTOMERS CONNECTED BY• Education ND PREVENTING OUTAGES • Energy & Utilities Weather is a leading cause of emergency situations. Stay ahead of nature with our comprehensive public safety solutions that take the guesswork out of predicting the weather. Education Protect students and educators from severe weather emergencies Energy & Utilities Plan for emergency outages and resume operations quicker CONNECT WITH US For more than 20 years Earth Networks has operated the world's largest and most comprehensive...
Open the catalog to page 2
All EARTH NETWORKS catalogs and technical brochures

Compare up to 10 products